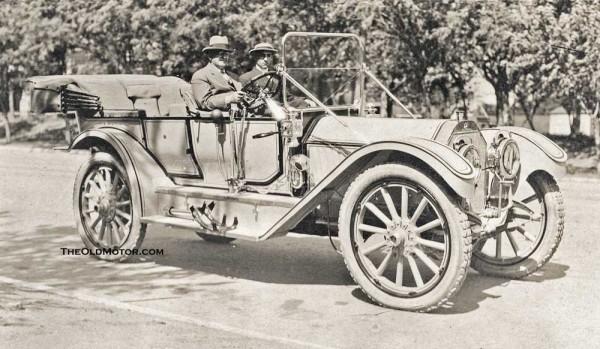 The impressive Oldsmobile Limited is usually remembered as being one of the largest of early American cars. It was manufactured from 1910 until 1912 with the 1910 models being slightly smaller utilizing a 130″ w.b. and a 505 c.i. t-head six with a 4 3/4″ x 4 3/4″ bore and stroke . The 1911 -1912 models were on a longer 138″ w.b. and featured a larger 707 c.i. t-head engine with a 5″ x 6″ bore and stroke. The larger illustration at the bottom, from The Automobile, Jan. 5, 1911 issue shows the complete power-plant with an updraft air-valve carburetor and a Bosch D 6 dual magneto.
A cone clutch was used and during all three years the Limited was in production a four-speed transmission was featured. An illustration of the trans-mission proved elusive but you can see the massive Weston-Mott rear axle assembly used, in the left illustration (just below). The center shows an advertisement for the 1910 model with its unique half-height front doors and the gentlemen comparing the height of of wheels. One of the features of the Limited were its huge 42″ x 4 1/2″ tires.
The last illustration above is a black and white version of the famous William Harnden Foster painting  "Setting the Pace," in which the Oldmobile limited is shown out in front of  the equally famous New York Centrals Twentieth Century Limited. In this pose the marketeers conveyed the message that the train was no match for the mighty Olds.
The photo at the top was taken in the Tulsa, OK. and comes to use via Donald Ellis and is courtesy of the Oklahoma Historical Society. This photo appears to show us a brand new 1911-1912 Limited seven-passenger touring car. The car is equipped with a full set of canvas seat covers, 42″ x 5″ tires, a monogram on the rear door and a very impressive pair of magnifying lens Solarclipse headlamps. We also have three other photos of Oldsmobile Limited cars here on the The Old Motor for you to enjoy along with another William Harnden Foster painting.