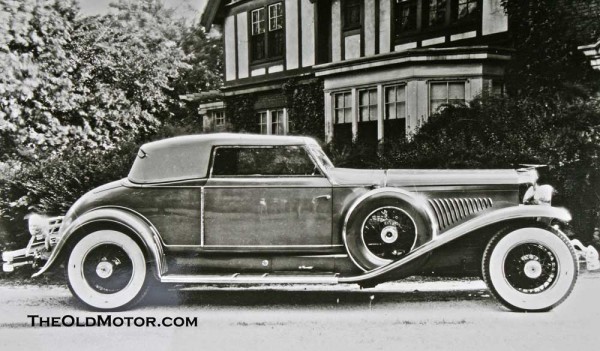 The very beautifully designed and graceful Model J Duesenberg in this photo, from the Fred Roe Collection, is listed in his notes as chassis no. 2263, which carried engine no. J-235.
The body was designed by Gordon Buehrig and built by the Rollston Body Co. and sometimes referred to as a torpedo convertible victoria. With the top down it has the appearance of having a disappearing top. Fred Roe reported that this body, replaced an armor-plated Willoughby limousine body in the period, which was originally on this chassis. The interior design work by J. Herbert Newport was very distinctive and featured  tasteful appointments; note the the two interior door handles and the triangle ornamentation at the top of the door.
Three bodies of this type were built, but only this one, which has survived, has the door hinges in the rear. Photo courtesy of Racemaker Press.