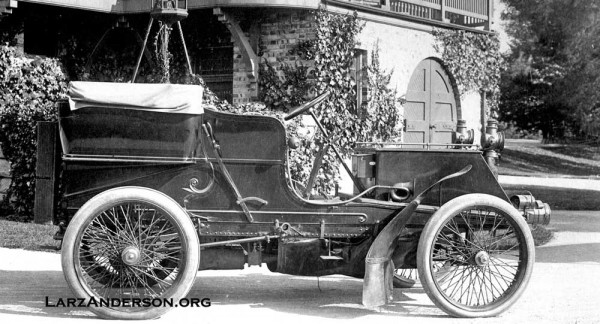 This is the second pair of cars from the Larz Anderson Auto Museum that have survived which we are featuring. The 1901 Winton Heavy Racer is one of the two most important cars in the collection. It is one of only four of this Winton model racing car that were produced, with a large 40 h.p. horizontally opposed engine equipped with Alexander Winton's unusual pneumatic carburetor controls and valve actuating mechanism.
Anderson bought the car to try his hand at racing and used it to compete in the first race meeting of the Massachusetts Auto Club in 1901. He never had much luck with this car in race meets, as it would usually stop running during the race and fail to finish. A bit later on Anderson had the rear entrance tonneau seen above built for car. He is known to have enjoyed racing meets and with this tonneau he would back the car up to the track fence and have a seat close to the action.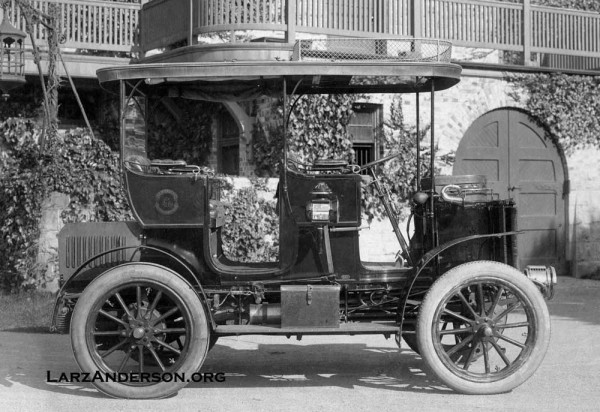 The 1903 Gardner-Serpollet the Anderson's purchased, was the most advanced steam car available at the time. It was designed and produced by a collaboration of well know French automotive steam engineer Leon Serpollet and a American business man Frank Gardner. Serpollet was able to perfect the flash tube boiler which gave his machines excellent performance and allowed him to set a speed of 75.06 mph with his "oeuf de Paques" (called the Easter egg because of its shape) at Nice, France in 1902.
The Anderson's were to find that they had to hire a skilled chauffeur was to tend to and operate this early machine for them. It is one of very few of the makers cars to survive.