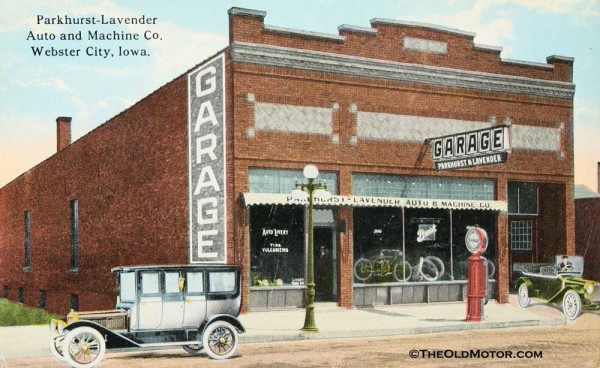 An interesting postcard showing us what was a going concern at the time. After a bit of searching we found in the Auto Topics, Sept. 27, 1913 issue, that the Parkhurst-Lavender Co. had this building constructed at a cost of $15,000. They were found listed in several auto directories and trade listings thru 1918.
In The Automobile June 11, 1914 we found the illustration below for the P&L Valve Adjuster the firm was manufacturing, for the Model T Ford, which came without valve adjusters.
It seems it the they handled a number of different makes over the years,  at the time of the postcard illustration, they were handling the Ford, Buick and a motorcycle. The limo and touring car on the postcard have the appearance of a late production Lozier. At other times, they also handled the Moon, Saxon, Paige and the Hudson.
The partners evidently changed ownership back and forth as first it was called Parkhurst & Lavender. The back of the card seen below is different than the front and lists it as the Parkhurst Auto Co. Later on in a trade magazine we found reference to Lavender taking it back over. Such was the business in the beginning of the automobile trade, that was full of constant changes and the coming and goings of manufacturers at the time.
*Update* Thanks to reader Terry Roddick who has found a present day photo of the building.