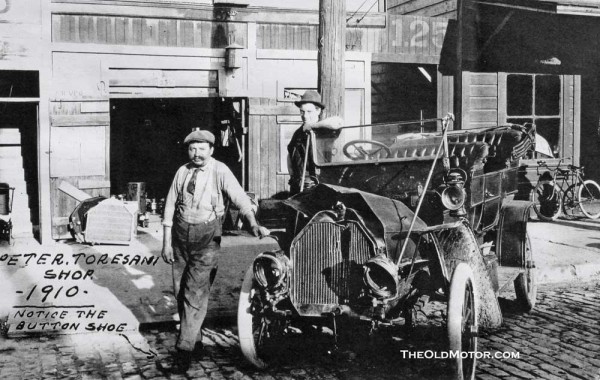 Peter Toresani was an old world craftsman who, after he had come to this country and settled in Stockton, CA., went on to become well known in the area for his ability to fix or make most most anything of sheet metal.
As a child starting at eight years old, he apprenticed in in the brass work trades in Milan, Italy, his home. Knowing that there was more money in being a mechanic, he went into that field and eventually ended up being the foreman of a large factory that manufactured brass lamps and lights of all types. He also enjoyed acting and performing magic tricks.
He like many others who came to this country ended up in N.Y.C. and found work at the Dietz lamp company, which built some of the first automotive lamps in the city. He eventually moved west and settled in Stockton, CA., after spending some time in San Francisco. He set up shop in Stockton, at 222 South California St. He soon became known state-wide for being able to fix battered and wrecked cars to better than new condition. He also being a skilled metal worker had the ability to make bodies and fenders for cars.
Above he is seen in front of his shop with a wrecked car during 1910. In the background can be seen radiators stacked up awaiting repair and just inside the door can be seen many brass lamps in for repair work. It the future we will share with you more photos and cartoons of the man that was a Stockton legend. Photo and card courtesy of Keith Canouse.