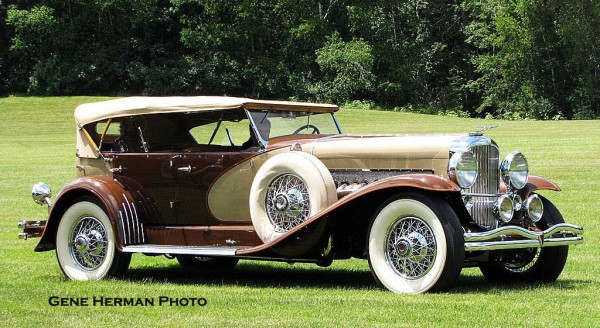 Last weekend the well known Collings Foundation in Stow, MA., had a unique exposition of classic cars from the Collings Collection along with aircraft, some of which took off and flew during the day. Above and below can be seen the 1932 Duesenberg supercharged SJ phaeton that was Fred Duesenberg's personal car.
On the left below is a 1930 Cord L29 convertible coupe, in the center is a grouping of cars seen as a biplane takes off in the background. And at the right below is a 1935 Packard Model 1208 Convertible Sedan.
For many years the Collings Foundation has been assembling and restoring some of the most important aircraft and automobiles built over a 80 year time span. If you are going to be in Eastern, MA., you need to plan a trip to see their very interesting exhibits. Just be sure to check first before you visit, as they are only open a few times a year. Photos courtesy of Gene Herman.