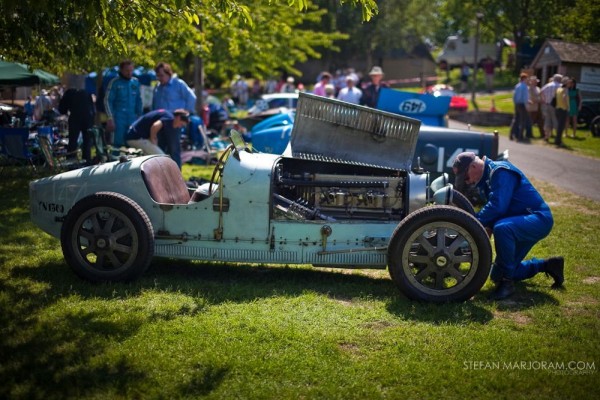 The photos shown here, captured by Stefan Marjoram at the recent La Vie en Bleu at Prescott hill, home of the Bugatti Club give you a good feel for what this event is all about. It is a celebration of all things in the French vintage automotive culture along with timed runs up the famous hill.
Above a gent tends to his Bugatti betweens runs on a beautifully sunny day. Some of the entertainment is seen in the row of photos (just below) along with a participant ready to make a run up the hill in his Bugatti Brescia.
Spectators (below) making a run up the hill during a break in the hill climb competition are seen in  a variety of colorful cars, all having a grand time. Take a moment to see very well done video of the event this year by Simon & Janet Wright. You can also see a fine video of this event in 2011 by Max Steele seen (at bottom). Watch both as they show many fine cars, all the action and the La Vie en Bleu dancing girls doing the Can-Can.