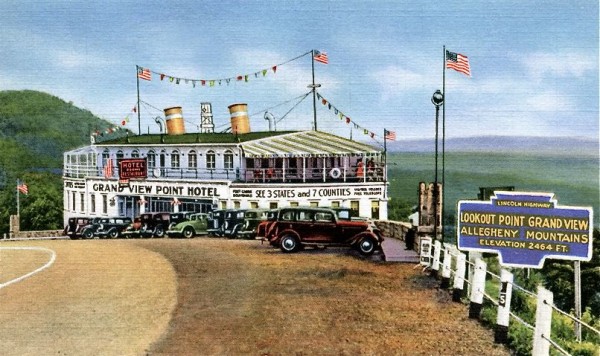 The S. S. Grand View Point Hotel was built on the Lincoln Hwy., U.S. Route 30 near Bedford, PA. Part of an article from the Pittsburgh Post-Gazette by Patricia Lowry gives us details of its construction in 1928 in a review of Brian Butko's book, The Ship Hotel:
Grand View Point was the name given to a sharp curve 80 miles east of Pittsburgh, 17 miles west of Bedford and a mile east of Bald Knob Summit, at 2,906 feet the highest point on the Lincoln Highway — U.S. Route 30 — in Pennsylvania.
In 1928, Herbert Paulson, a native of the Netherlands, built at the curve the castle-themed Grand View Point Hotel, with rooftop turrets and four floors, three below road level.
Three years later, with the help of German-born Albert Sinnhuber as building designer, he enlarged and remodeled it to look like an ocean liner because, an early WPA travel guide reported, the morning mists in the valley reminded him of billowing ocean waves. Mr. Paulson, who made annual or biannual trips to Europe, also had a big love of the sea, Mr. Butko believes.
The Ship's construction was a suitably quirky feat of engineering, with 18 steel piers sunk 30 feet into the rock and 22 car frames added to the concrete foundation for strength.
After the opening of the Pennsylvania Turnpike in 1940, traffic on route 30 fell and visits to the Grand View declined over time. It was sold in 1978 and the new owners tried to keep it going. They eventually closed it and it fell into disrepair. In the 1990s there was a  movement by the Lincoln Highway Highway Heritage Corridor organization tried to"Save Our Ship" but they were unsuccessful in buying the property with plans of saving the icon. Sadly it burned in Oct. of 2001 and was a total loss.
Photos above courtesy of Brian Butko who has written a series of books about the Lincoln Highway and its attractions.