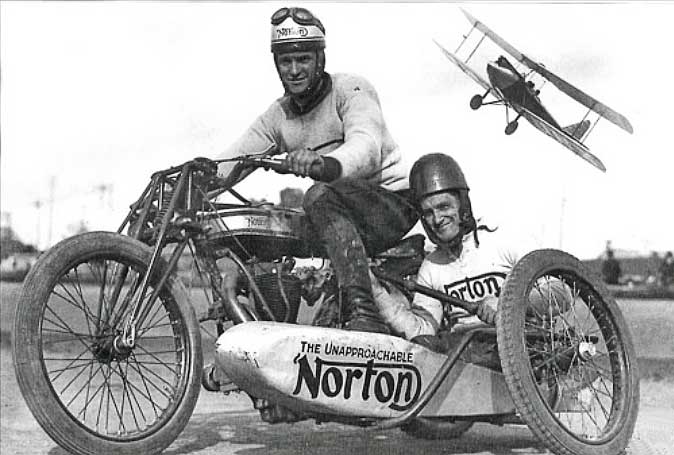 After finding this eye-catching photo of a Norton above, courtesy of  Iron & Air,  it made us interested in learning more about these early Norton singles. They were called the Model 16H, which went on to the distinction of being the British motorcycle with the longest production run of 47 Years. The bike above appears to be a competition version with a different cylinder head.
James L. Norton started producing his own engines in 1907 after having having won a TT with a Peugeot-powered machine he built, which was ridden by Rem Fowler to victory, garnering Norton much attention. He then redesigned the Peugeot v-twin engine and it along with a new 3 1/2 h.p. single were both utilized in the Norton production bikes that followed.
We found many more interesting photos of the 16H, three of which are shown below and the full history of this Norton single at The Vintagent. Left to right (below) are; a 1909 Norton (#1) at the Brooklands race track for the Easter race meeting. (center)'Wizard' O'Donovan  Norton's chief turner is shown below in 1914 after having set a 81.05 m.p.h. record for a kilo, on the l-head belt-drive single. The last photo shows a 1923 Model 16H now equipped with chain drive and well on its way to to being established and produced in great numbers through to 1958.