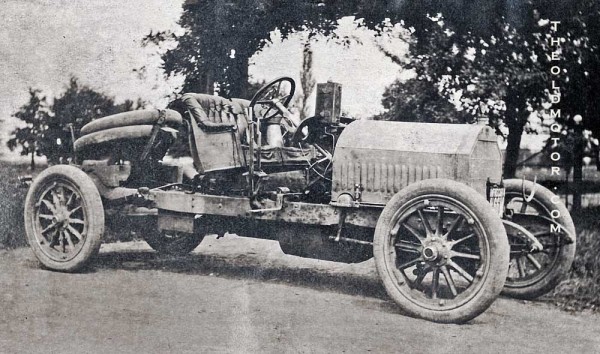 The test car shown above is a late Simplex four, shaft-drive chassis wearing a manufacturers license plate, which may be from N.J. The Simplex 38 h.p. long-stokes were introduced in 1912 and were manufactured until 1915. The 50 h.p. four changed over to a long-stoke in 1914 and according to Simplex expert the late Henry Austin Clark, was manufactured until 1916 along with the Crane Model 5, which was a six-cylinder. It is not known what year this photo was taken, or if this is a 38 or a 50 h.p. chassis, hopefully the shaft-drive Simplex experts can i.d. this for us.
Studying the photos it is evident that Simplex may have been using this test chassis to test Harry Miller's Master Carburetor as the left photo (below) clearly shows a Master carburetor installed and fed off of what appears to be a one gallon tank for mileage tests. Miller later went on to build a barrel-valve aluminum racing carburetor of a similar design and the Miller racing car.
In the center and right hand illustrations (above) is a complete description on how this carburetor is constructed and operates. Below on the left is an announcement in the Automobile, Jan., 1913, issue telling about the 38, 50 and 75 h.p. models. The center photos show a Rushmore starter installation in mid-1913 on one of the long-stokes and the ad on the right (below) tells of Simplex's move from N.Y.C. to N.J. but only mentions the 38 and the 50. Photos from the Benjamin Ames collection.