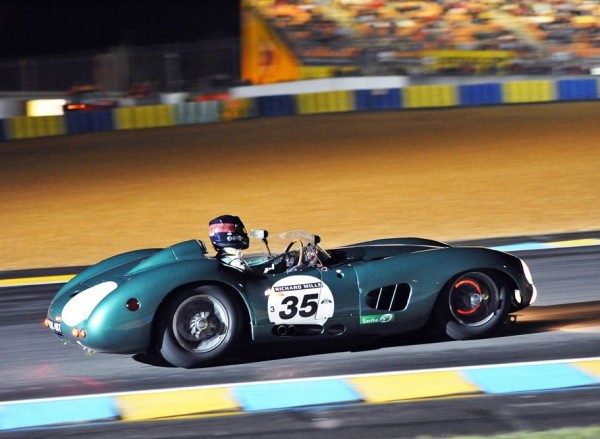 Gregor Fiskens ensured that the Le Mans-winning Aston Martin DBR1 delivered a fitting tribute to its victorious 1959 crew, by bringing the car home second overall in the Le Mans Classic's race for 1957-61 sports cars at the 2012 Le Mans classic held recently on July 6-5, 2012.
This was an especially timely performance by Fiskens and the Aston after the recent passing of  Carroll Shelby and Roy Salvadori and the DBR1's designer Ted Cutting, who together recorded Aston Martin's victory at Le Mans in the 1959 race.
Photo above by Tim Scott, along with his quote "Frisky giving it plenty (check out the front brake) on the way through Dunlop" (turn).
You can see the Le Mans-winning Aston Martin DBR1 (click here) in an excellent tribute film to the trio that Aston Martin released just recently, before the 2012 running of the event.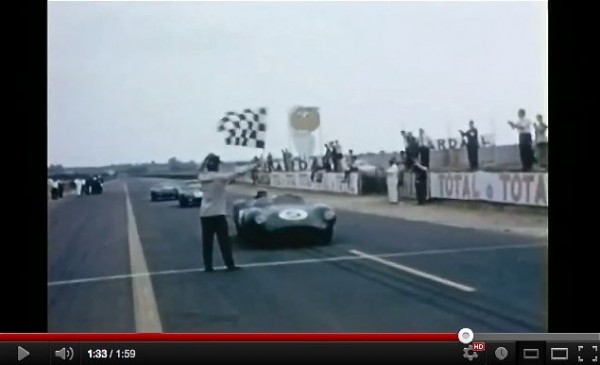 You can Visit with Fiskens who handle some of the worlds most important sports and racing automobiles and Tim Scott of Fluid Images, both of whom are based in London.
Congratulations also go out to our friends at the Collier Museum and the Revs Institute who also had a great weekend at the 2012 Le Mans Classic, when "Le Monster", one of Briggs Cunningham's racers, won best in show at The Le Mans Heritage Club, the racer was a big favorite with motor sport historians and experts alike, and by majority vote of the jury, they awarded the prize, Best of Show to the special Cadillac. Photo courtesy of Popular Mechanics.