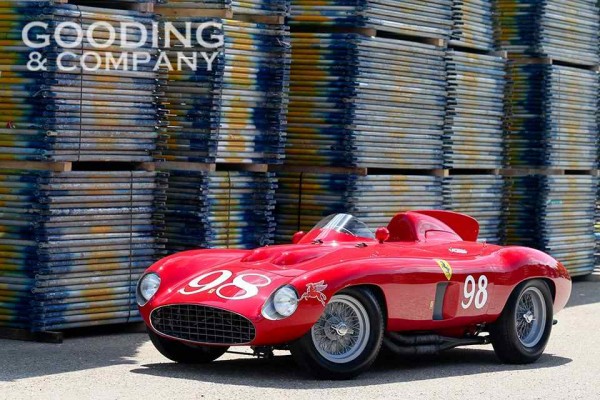 Gooding & Company recently announced that it will present four motor-sport legends – a 1955 Ferrari 857 Sport, a 1928 Bentley 4 1/2 Litre Le Mans Sports "Bobtail" team car, a  1960 Porsche RS60 Spyder and the 1964 Ford GT40 Prototype 104– at its Pebble Beach Auctions on August 18 and 19, in association with the prestigious Pebble Beach Concours d'Elegance. The Gooding Pebble Beach Auction will be the first time that the Ford GT40, Ferrari 857S and Porsche RS60 are presented for public sale.
1955 Ferrari 857 Sport Scaglietti Spider 0588 M
Utilizing the thundering 3.5-liter, 4-cylinder engine, Ferrari built just four 857 Sports models, and 0588 M was the last example created. After a brief period with the Ferrari works team, during which time Olivier Gendebien shunted 0588 M, the car returned to Ferrari and eventually Scaglietti, where it received its spider coach work on the allungato modificato chassis, distinctively finished with a rear upright fin, similar to that of a D-type Jaguar.
In 1956, John Edgar purchased the "new" Ferrari to add to his stable. In its first US competition outing in 1956, Jack McAfee wielded the 857S to a second place at Palm Springs. Soon thereafter, McAfee drove 0588 M, finishing third at Pebble Beach. These initial successes kicked off a long list of significant wins for the car, some of which were guided by the skillful driving of Carroll Shelby.
By 1966, this Ferrari ended up in the possession of American pop artist Andy Warhol, who painted the car yellow with the intention of creating a parody of the movie The Yellow Rolls-Royce, though records indicate that this never occurred. The car was eventually sold to a collector in Europe and, during its most recent ownership, has received an exacting restoration to its 1956 livery. As a matching- numbers, original-bodied 857S, this car is one of the rarest Ferraris in the world. Mathieu Heurtault photo.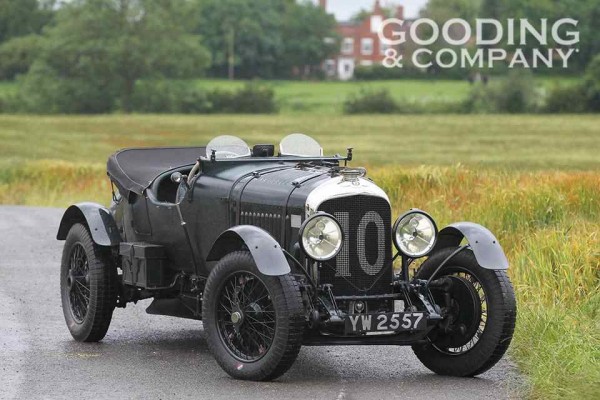 1928 Bentley 4 1/2 Litre Vanden Plas Le Mans Sports "Bobtail" YW 2557
Of all the legendary drivers and machines to compete at the world's premiere endurance event, there is no legacy greater than that of the Bentley Boys and their five outright Le Mans victories. The small number of works team cars that remain, such as the 1928 Bentley 4 1/2 Litre "Bobtail" being offered, are the most sought-after of all Bentleys in existence.
This car, YW 2557, is one of the few purpose-built 4 1/2 Litre Le Mans team cars and the only remaining example in "Bobtail" form. It was completed in 1928 for the 24 Hours of Le Mans, which ended up being a victorious race for the marque. In 1929, this team car competed in the inaugural Double Twelve race at Brooklands, placing second overall against an Alfa-Romeo with a generous handicap. Primed for success, the Bentley Boys continued their winning campaign at Le Mans later that year, where they gloriously crossed the finish line 1, 2, 3 and 4. The "Bobtail" placed 3rd overall with J. Dudley Benjafield and Baron Andre d'Erlanger at the wheel, resulting in the car's second podium position out of three 24-hour events in its racing career.
In keeping with its originality, the Bobtail was restored to its 1929 Le Mans specification in recent years, and therefore remains as one of the purist and most important Bentleys in the world. Mathieu Heurtault photo.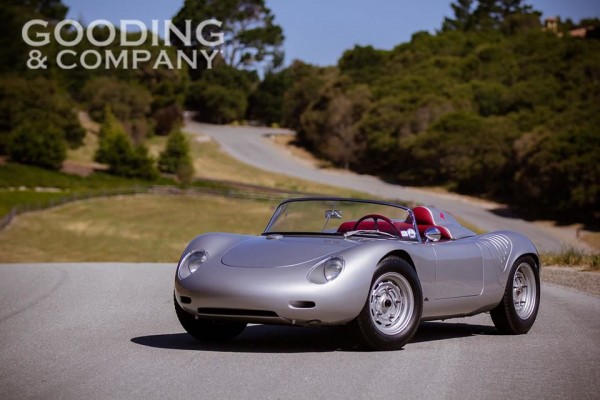 1960 Porsche RS60 Spyder 718-060
The RS60 program became one of the German marque's most legendary race car series in North America when it dominated the 12 Hours of Sebring in the 1960 season. One of only 14 customer RS60s built, 718-060 is an exceptional matching-numbers, original-bodied example of Porsche's ultimate four-cam Spyder. This Wendler-bodied example being offered was first delivered to William Wuesthoff, a gentleman driver and car dealer living in Milwaukee, Wisconsin. He launched the car's illustrious racing career, capturing 12 class wins in just four seasons at premier venues such as Elkhart Lake, Meadow-dale and Watkins Glen. After its racing career, the RS60 was sold to famed Porsche driver Bruce Jennings. A testament to the Spyder's pedigree, it has also participated in the prestigious Monterey Historics and Rennsport Reunion, as well as displayed it at Meadowbrook, The Quail and the Porsche Race Car Classic. With exceptional originality and an unbroken chain of distinguished owners, 718-060 is and widely regarded as one of the most successful and original RS60s extant. Mike Maez photo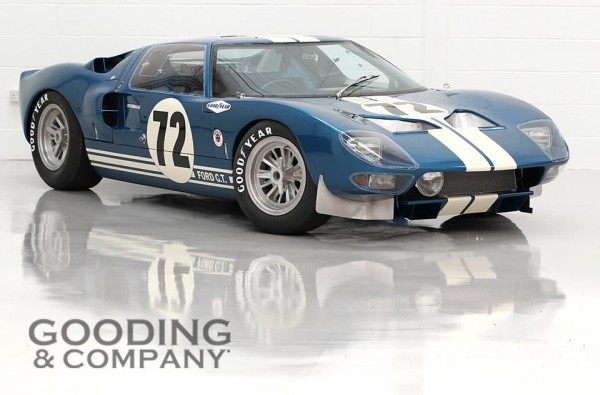 1964 Ford GT40 Prototype GT/104
Introduced in 1964, Ford's groundbreaking GT40 went on to dominate international motor-sport for the remainder of the decade. Initially entered in the 1964 24 Hours of Le Mans, this GT40 lightweight prototype joined two other experimental team cars in Ford's first official outing at the grueling endurance event. Though it failed to finish the 24-hour race, GT/104 was poised to play a critical role in helping Ford beat Ferrari.
As development continued and production ensued, GT/104 continued to be an integral part of Ford's racing effort. Subsequently entrusted to Shelby American, the prototype car was refinished in Shelby's iconic blue and white, and significant testing and development was undertaken in order for the car to participate in the 1965 Daytona season opener. The GT/104 finished in 3rd place in the hands of Bob Bondurant and Richie Ginther, memorializing, with its sister car, the first-ever completed race and win for a GT40 in motor-sport history. Retired later that year, GT/104 returned to Ford where it was used by the styling department as a show car.
GT/104 remains among the finest and most historically significant examples of Ford's all-conquering sports racer. In preparation for the Pebble Beach Auctions, the GT40 was recently restored to its Shelby American livery. Mathieu Heurtault photo.
Details of the Gooding & Company auctions and photos of other consignments can be found on their website.