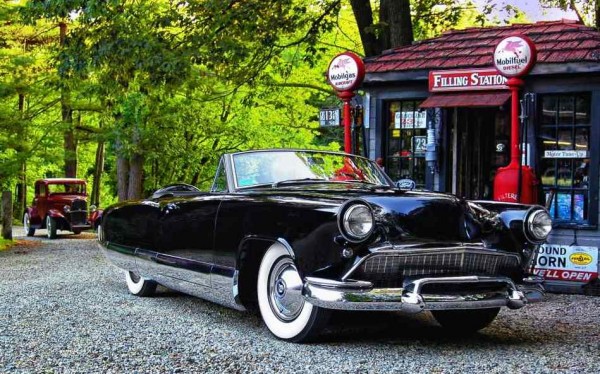 The Pebble Beach Concours d'Elegance is just a little over a month away, so we thought this would be a good time to give you a preview of one new class that is going to be shown at the event this year.
A new feature class will be Sport Customs (1930s–1950s) – This class will feature one-of-a-kind cars built in the United States on modified American production or hand-built chassis. To learn more about what these one-off hand-crafted automobiles are all about, we have posted sport custom expert, Geoff Hacker's run down on these special cars, which has been posted on Hemmings Daily. Photo (above) the 1959 Bentas Raven Copyright © 2012 Mike Bradford
Not quite a sports car, not quite a custom car, the one-off cars we've come to call sport customs blended a little bit of both and have always been considered in a class of their own. At this year's Pebble Beach Concours d'Elegance, a group of significant sport customs will take the field in a literal class of their own.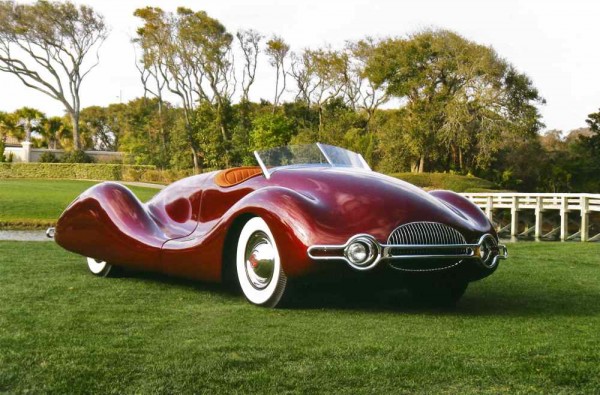 Most stories about custom cars start in the 1950s and stories about American sports cars start with the introduction of the 1948 Jaguar XK120 and the MG in the post-war era and the influence they had. Those are great mile markers, but what we're finding out is the best stories about American sports and custom cars are the ones that led up these events – the history and heritage of America's sport custom cars. Photo (above) The 1948 Norman Timbs Special Copyright © 2012 Peter Harholdt
Back in the 1940s and 1950s, custom cars were truly one-of-a-kind cars that were all, or nearly all, built by coach builders of the day. These included cars built by Frank Kurtis, Bohman and Son (of Bohman and Schwartz fame), Derham, Diedt & Lesovsky, and others. One-off uniquely designed custom cars were also built by individuals such as Jay Everett (Astra).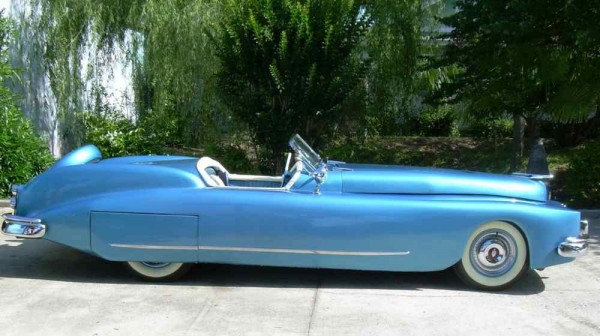 What we would now call customs – which involved taking a stock car or stock component parts and modifying them extensively to get a new look and/or design – were then referred to as "restyled cars." Some of these were modified so extensively that it might have been easier to build the same car from scratch! Examples of restyled cars included ones built by Gerry Huth (Custom Cadillac), Robert Monroe & Alexis Dowdy (Rogue), and Lloyd Templeton (Saturn). Of course the coach building shops restyled many cars too, so some of their work belongs in this category, as well. Photo (above) The 1948 Templeton Saturn Copyright © 2012 Bill Grant
After the 1940s, sports car design separated from custom car design and each became a distinct classification of car. Sport customs continued being built through the 1950s, and most of these were designed as large, "sporty," cars – an "American boulevard cruiser" type of design. That's what makes this class of cars so interesting – and their history compelling. Like my favorite Forgotten Fiberglass cars of the 1950s, Sport Custom Cars are always handcrafted, taking hundreds – if not thousands – of hours to complete.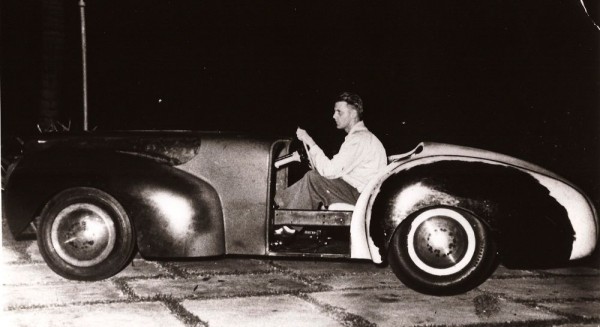 Most of the cars that we'll see in this class at Pebble took more than 2,000 hours to build back in the day. That's 50 weeks of 40 hours a week work – and two weeks off for good behavior – one full working year. In modern terms, at 50 bucks an hour, you'll arrive at $100,000 in labor before accounting for the first bolt. The Sport Custom cars that will be on display at Pebble Beach took quite a bit more than 2,000 hours for their builders to complete, and represent some of the best of what was fabricated at the time. The this link will take you to the rest of Geoff Hackers post on Hemming Daily.
Photo (above) A 19 year old Seward Allen being fitted in his 1940 Coachcraft Roadster during construction Copyright © 2012 by Michelle Herrera Cousineau and Martin Cousineau
This year's Pebble Beach Concours d'Elegance takes place August 19. For more information on sport custom cars, visit SportCustom.com.