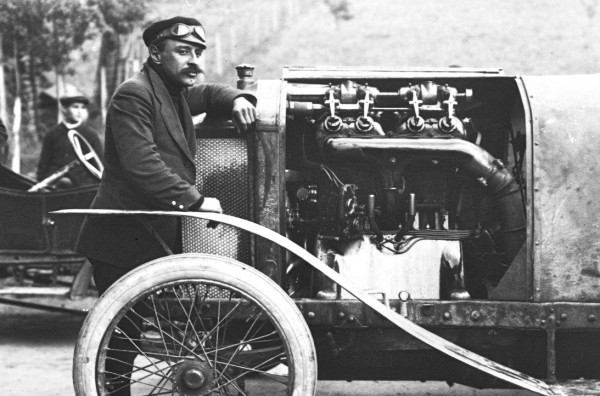 This is one of the most unusual and interesting racing cars seen here in a long time, unfortunately we do not now much about it. What we have been able to find out from Pavel Malaník (an expert Czech motorcycle restorer), is that it is a well known Czech racing car (one of two made in 1909) called the FCR. The first car was driven by Otto Hieronimus, and later Alexander Comanos who appears to be with the car in the photos.
It is quite advanced for the time and appears to feature an OHC driven by a shaft and bevel gears which actuated the inclined valves by rocker-arms. The displacement is reported to be of 5672 cc, with a bore x stroke of 85 x 250 mm, it was rated at 100 h.p. If you do the math to inches it is 3.3465″x 9.8425″ with a displacement of 346 c.i. The nine inch plus stoke engine, was built during the the time when extremely long strokes were popular. Note the water pump that is driven by a flat belt and the Bosch magneto mounted on an angle.
The photos originate from the National Library of France, which we found via Isabelle Bracguemond, who is the secretary of the French Indian Motorcycle Club. These photos were from the Gaillon Hill Climb and the photo on the right (above) is dated 1911. The climb was 5/8 of a mile with an average grade of about 10%. If any of our readers can tell us more about this interesting car or the photos we would appreciate it.