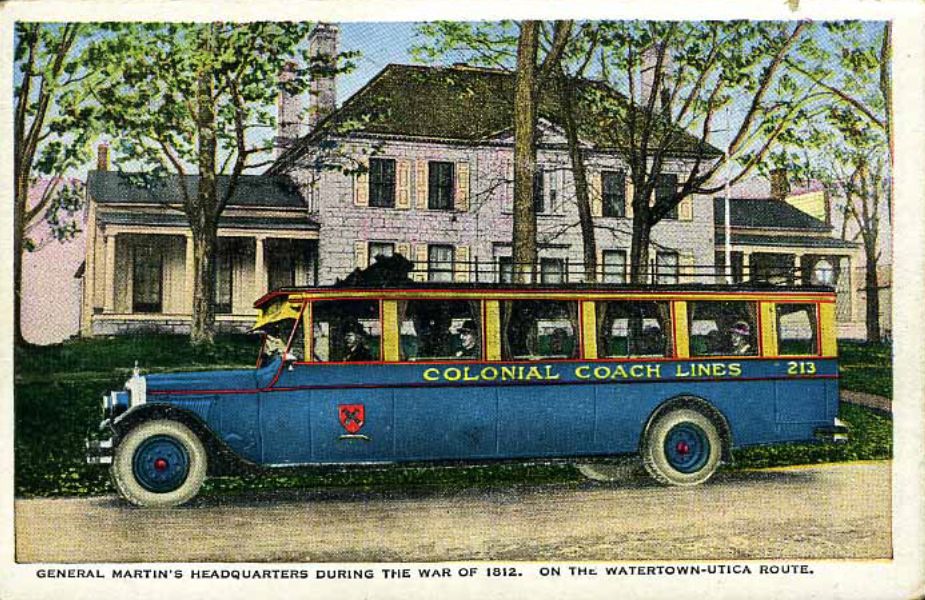 A very colorful and attractive postcard from back in the time when taking a bus trip was a big event. This card from the Colonial Lines in New York State, was showing one of the many attractions on its different routes in the state of which totaled 750 miles. c.1930
Kit Foster commented and thinks that the bus in the postcard above maybe a Fageol Safety Coach. The link in his comment below is to a great photo of a Fageol at Hanks Truck Pictures .
After checking the files here and after some more investigation, a photo of a White with a body by the Bender Body Co. of Cleveland was found. It appears that the Colonial bus chassis is more similar to the chassis that is under the Bender coachwork below with the White chassis. This chassis also has the same lines from the hood forward other than the hood louvers and also the same type of bumpers. This make us think the the Colonial bus maybe on a White chassis and closer to 1930 than the c.1925 stated earlier. Also one of the other features not see on this bus, are the signature Fagol angular vents which face backwards and are located on the top of a Fagol hoods instead of louvers in the side panels seen on the Colonial bus.
As Kit Foster mentions all of these bodies differ depending on who made them and what bus company ordered them. The bus below has more of that early to mid 30s look, while the Fageol and postcard buses have more of the mid 20's high roofline look.
Are there any truck and bus experts out there that can shed more light the chassis under the Colonial Coach Lines bus in the postcard?