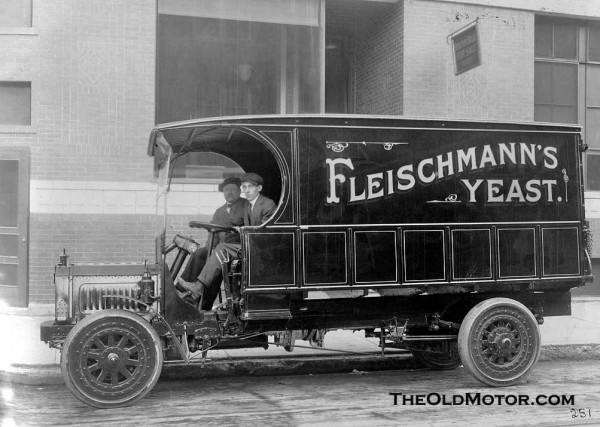 For this installment of our continuing feature on early Packard trucks, the Fleischman's Yeast truck seen here (above), appears to be in front of a bread makers facility. The Fleischman's Yeast Co. was formed in Cincinnati, Ohio, in 1868, where they built their first plant. A the sign hanging from the building above the truck reads "Returned Bread For Sale Here". Note the very well done sign painters work on the truck.
Three Packard Trucks are seen (below) at the Campbell's Creek Coal Company, picking up their loads of coal. The trucks belonged to the Otto Haffle & Son – Coal, Sand & Gravel Co. who were dealing in the Campbell's Creek coal. The truck in the foreground has a 1918 Kentucky license plate, so Otto Haffle & Son may have been from there. Covington, Kentucky, is right across the Ohio River from Cincinnati, where Campbell's was based.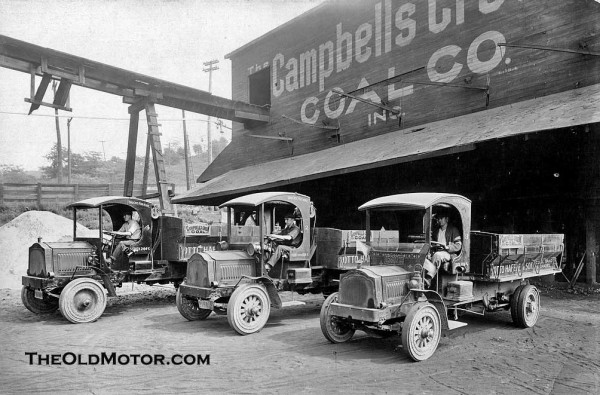 The Campbell's Creek Coal Company was incorporated in Cincinnati, Ohio. The company advertised a variety of coal-based products including lump, washed egg, washed nut & slack, smokeless and genuine Lehigh anthracite. The company's products were housed in elevators located in Harbor Landings and at the bottom of Baymiller Street. The companies mines were located in West Virginia.
You can take a look back on the rest of the Packard trucks photos in this series courtesy of Kim Westendorf's family.