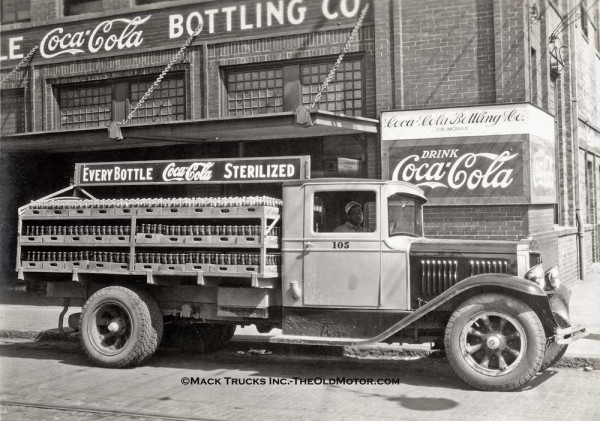 This Mobile, Alabama, Coca Cola Bottling Co. 1930 Mack Model BG was photographed on March 13, 1930, in front of the facility. It is interesting to note that Coke Cola was advertising "Every Bottle Sterilized" on the signage above the bed at the time to make the public feel safe about drinking its product.
According to The Mack Trucks Historical Museum: The Mack BJ and BB models, the first of the "early B Series" introduced in 1927, represented the company's first trucks developed in response to the demand for larger capacity, higher speed haulage. The growing acceptance of trucking as a transport mode required the application of new design and engineering principles, and a variation of sizes and weights to satisfy emerging state regulations. More than 15,000 units were built through 1941. This model BG, according to Mack Trucks by Ron Adams was introduced in 1929 and was powered by a six-cylinder L-head six.  This six-wheeler, probably being close to brand new, is seen riding on B.F Goodrich Silvertown tires.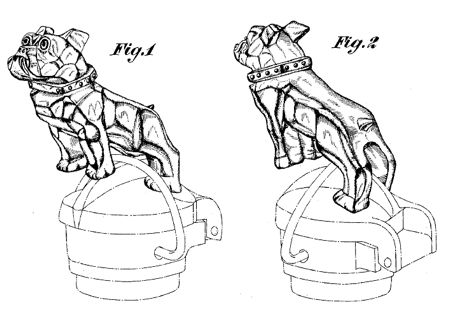 The patent for the famous Mack Bulldog seen (above), was designed by Mack Chief engineer Alfred F. Masury and was granted on Oct. 11, 1932. The engineer while recuperating from an operation in the hospital according to the legend, either carved it from a bar of soap or a piece of wood.
This is the first of a series of Mack Truck photos that we are pleased to bring to you courtesy of  The Mack Trucks Historical Museum and curator Don Schumaker.