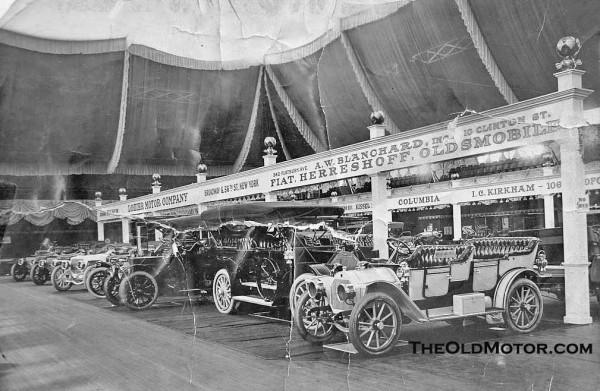 Auto shows in the N.Y.C. area back in this period (circa 1910), must have been quite exciting to take in. Being an area of financial means meant that the best American, British and European offerings would be on the show floor in the hands of area dealers and distributors. In just this one row we can see two of the very best available at the time, Lozier and Fiat.
One dealer we have been following recently,  A.W. Blanchard  had a stand at this show (very likely in Brooklyn) and we can see three of the brands that the firm was handling at the time, Fiat, Oldsmobile and the Herreshoff. The first two we have covered here before but the latter, the Herreshoff (1909-1914), was a small car company run by a member of the Herreshoff  Mfg. Co. family in Detroit, Mich. The cars they built may not be all that well known, but the boats that they crafted in Bristol, Rhode Island are world famous. The company built the five racing sloops that defended The America's Cup race between 1893 and 1914 and all five times the boats were victorious.
Charles Fredrick Herreshoff first started the automobile building venture in Detroit, Mich., in the old Thomas-Detroit factory. The first cars were small 24 h.p. models that used an automotive version of the marine engine that Charles designed. In 1910 a striped roadster won a five-mile stock chassis race at the Indianapolis Speedway. More powerful versions were soon available, including both a 30 h.p. four, along with a 40 h.p. t-head six, both of which may have been Lycoming engines. Like many early makers, the firm was soon in financial trouble and when Herreshoff left the company in 1914, he stated that the makers troubles were caused by faulty Lycoming engines.
The company was then dissolved and Charles Herreshoff tried a new car venture in Troy, NY., called the Herreshoff Light Car Company. Other family members, later designed the interesting Novara in Rhode Island at the factory and another designed the Hermes in 1920. Photo courtesy of Steve Blanchard.