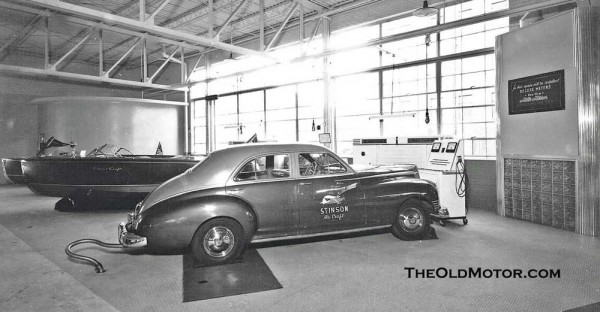 This brand new Packard dealership building was located at Seventh Street and North Robinson in Oklahoma City, OK. The two photos were taken in the parts and service area and appear to be staged press photos just before a grand opening.
The photo (above) shows a chassis dynamometer in the foreground appears to be a post war Clipper Deluxe Eight wearing Stinson Air Craft signage, set up and looking ready to test. the installation was not quite complete because the sign seen on the wall reads as follows: In The Space Will Be Installed DELUXE METERS For The Moto Motors Dynamometer. Behind the Packard are two Christ-Craft Cruisers on display as dealership also handled that makers line of fine boats.
The building had survived up until early 2010 when Dan Strohl of Hemmings Daily, found this modern photo of the building at Northwest 10th and Robinson. He also found another Packard dealership in the city shown wearing its sign at 811 Broadway. This dealership can be seen in a better photo in one of Strohl's Lost Dealership Roundup series posts. He also turned up the location of yet another Packard dealer or distributor that was listed as Packard Oklahoma Company at 231 Northwest Sixth, that building has not survived and has been replaced with a modern one.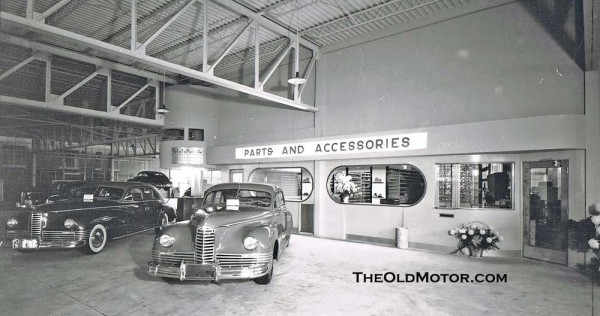 This second photo (above) shows what appears to be the entrance area of the service and parts department and gives us a glimpse into the structure of the building, which as seen in the previous links was quite large. Several things of interest in this photo are; Note the large oval windows on the ground floor, the flowers, and on the second floor just to the left of the PARTS sign, it looks as though there was an office of some sort, for either keeping an eye on the department or possibly for directing the flow of traffic through the building.
Hopefully our readers will know more about this dealership, its name and also be able to give us the exact year and models of the cars that we can see. Photos courtesy of the Donald Ellis collection.