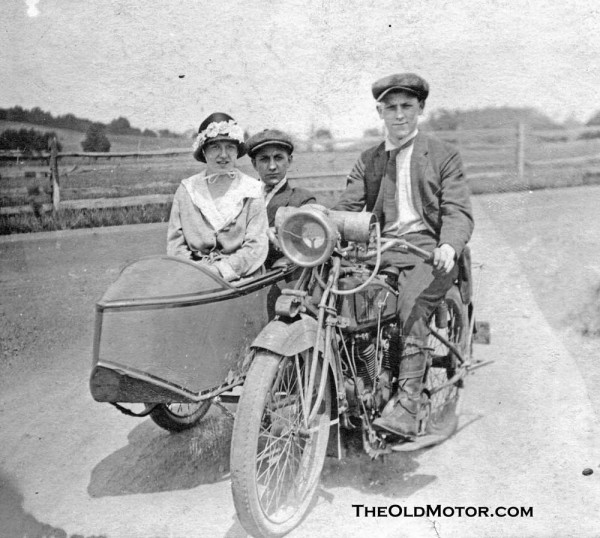 Today we have a pair of photos showing the Kulp brothers, along with their motorcycles and girlfriends they referred to as "The Valley Girls". The caption with the photo (above) which was written by one of the older brothers reads as follows: "Here is our cracker eater. He now has an X and sidecar. Looks good don't he and has no trouble to get girls. Then again neither do we."  The "cracker eater" in this photo was William, the youngest of the three brothers and the X refers to his handsome Excelsior machine.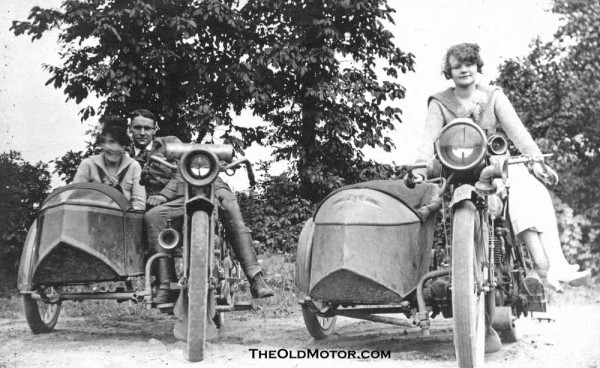 This photo shows one of the older brothers along with their motorcycles and girlfriends. The motorcycle on the left appears to be a Harley-Davidson and the right hand machine is a rare Yale with the top front panel on the sidecar lettered with the Yale name over a banner.

This photo (above) shows a hill climb in Old Maid's Woods, held by the Reading Motorcycle Club, which the Kulp brothers were active in at the time. The event is described in the Reading Eagle newspaper as follows: "The new 350-foot course running from the bottom of the hill at the Mountain View Hotel, opposite Old Maids Woods in a direction toward the Archer farm".
All of the big names at the time including Orrie Steel, (Indian), Frank Sandruck, (Excelsior), The Westfield Brothers, Ben and Walter (Harley-Davidson) and Red Wolverton and John Seely, both on (Ace 4-cyl machines), were competing with other entrants from the centeral PA. area. Unfortunately we do not have the final results of the climb.
The photos are courtesy of Paul Rigsby, and you can see the rest of the series of interesting photos of his grandfather William and brothers, on their motorcycles in the Reading, PA, area here.