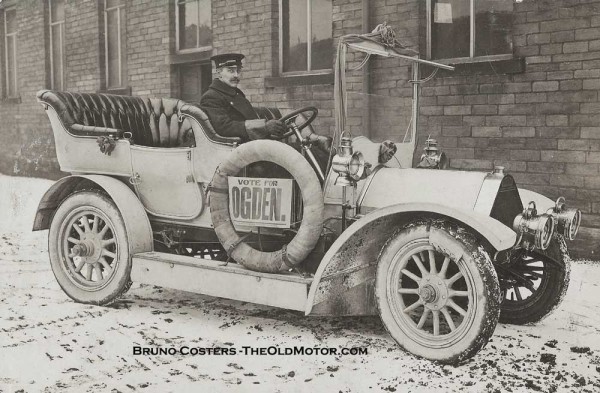 Last week we shared with you a photo and the history of  the Humber Company  which was located in the South Wales area of the UK and also showed you a Coventry-Humber. This week we have the more expensive and deluxe Beeston-Humber that was built at their factory in Beeston before it was closed down due to financial problems.
This photo courtesy of  Bruno Costers from Belgium, shows a 1907 30hp Beeston Humber. Costers mentions that this car has some non-standard features; the wheels are much heavier than standard and appear to be wearing larger section tires, the front mudguards have also been modified with a small rim fitted to the outside edge. It is interesting to see the strap on patch that has been added to the right front wheel.
The car has a very high-quality look to to it, with a beautifully styled rear body section and front seat. The upholstery also appears to be finely done and features a brass molding around its edges. The tool box under the running board and high quality magnifying-lens head lamps and flared front fenders also add to it. The car and chauffeur appear to have been in some type of campaign engagement for Ogden the politician, as in addition to the banner on the side, the windshield is decorated with ribbons and flowers can be seen attached to the body work.
Costers found the following information about Frederick Ogden (May 11, 1871 – April 24, 1933), who was a British Liberal Party politician; He was elected at the January 1910 general election as Member of Parliament (MP) for the Pudsey division of the West Riding of Yorkshire, and held the seat until the constituency was abolished at the 1918 general election. He contested the 1929 general election in Bradford South, but did not win the seat.
The Humber company which had other products, was also producing aircraft engines around the time the campaign photo was taken. The advertisement below courtesy of  Grace's, from the July 16, 1910 Flight magazine, shows an o.h.v. engine, along with props, wings and complete "Aeroplanes" the company was offering listed.