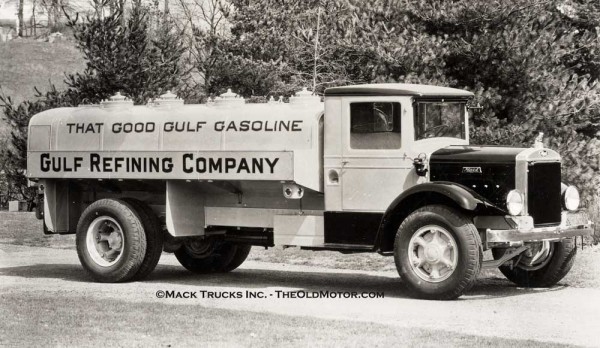 By Gene Herman:
The successor to the "AB" series, a fine example of which was seen here recently the "B" series trucks began as medium duty rigs in the one to four ton range. While the line was produced parallel to the venerable "AB's" and "Bulldogs" throughout the 1930's, their more modern design provided Mack with a viable inter-city truck, and relegated those older models to local use. They proved very popular as semi-trailer tractors.
Such new features as four wheel brakes and Mack's patented "Power-Divider" differential that sent power to both rear axles on trucks so equipped, set the new model apart. The "BX" designation indicates the very heaviest capacity versions of the line, able to haul up to 8 tons.
In a business where time most assuredly was money, the new line could take advantage of the vast improvements being made in the roads of the day. The highest speed that even the biggest six cylinder "AK's" could hope to achieve on the open road was about 30 m.p.h., while a properly geared BX, like the one pictured, could offer a 25% improvement on that pace with it's big 128 horsepower flathead six . That may not seem like much by today's standards, but it was not an insignificant achievement in it's day. Every increase in road speed, no matter how slight, made shipping by truck that much more competitive with the railroads. Mack's first "B" series provided the company with a real contender in that market. More than 15,000 units were built through 1941." This is part of a series of Mack Truck photos that are courtesy of  The Mack Trucks Historical Museum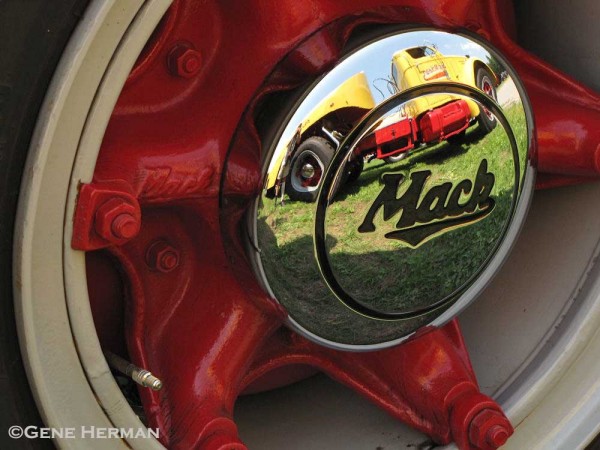 Photo taken at the recent Bellows Falls, VT., truck show, of Skip McKean's 1951 Mack LF reflected in the hubcap of his '46 EH. It was the "E" model, introduced in 1936 that eventually replaced the light "B" models, just as they supplanted the old "AB" line.