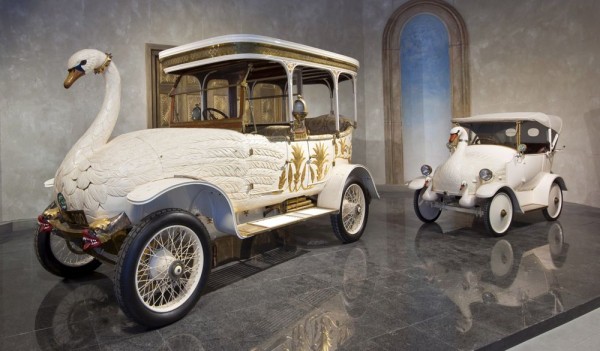 A marvelous pair of automobiles are en route from the Louwman Museum in The Hague, to be exhibited along with some two dozen other entries from other parts of the globe this year at the 2012 Pebble Beach Concours d'Elegance. American entries are coming from both Hawaii and Alaska and other states from coast to coast.
As Evert V. N. Louwman, the owner of the Swan and Cygnet, explains, "We would like to share these treasures with as many people as possible all over the world. Besides their home at the Louwman Museum at The Hague, I cannot think of a better place than Pebble Beach to show them to the public."
The Swan cars elaborate carved and gilded coach work rides on a fine 1910 Brooke 25/30 h.p. chassis. The Swan Car was commissioned by Scotsman Robert Nicholl Matthewson, who lived in India in the early 1900s and sought to emulate the opulence exhibited by some of the maharajas. Built to draw attention, the car is modeled after the majestic bird and equipped with very special features: eyes that illuminate; a beak that opens, closes and sprays steam, and an eight-tone horn. Draw attention it did: the Maharaja of Nabha soon purchased this creation, built a miniature Cygnet as a companion to it, and the pair remained with his family for more than 70 years. The Cygnet is believed to be the oldest Indian-made automobile in the world. Photos above courtesy of the Louwman Museum.
The Swan cars first appearance at the Pebble Beach Concours in 1993 seen (above), winning the Montagu award. ©Photos above courtesy of Pebble Beach Concours d'Elegance.
The chassis chosen for the Swan car was built by J.W. Brooke and Co. of Lowetoft, a town in the eastern English county of Suffolk, on the North Sea coast. The company appears to have to have built their first engine in 1899. By 1905 they were producing very high quality four and six-cylinder automobiles. The photos left to right (above) show; The Swan Car when first completed, a 1908 illustration of the larger Brooke 40 h.p. l-head engine, a photo of the Swan Car in India with a Rolls-Royce Silver Ghost following it.
Take a few moments and travel to the Louwman Museum (click here) and see a Meguiar's video hosted by Barry Meguiar, where he is given a tour in the new home of the Louwman Museum. More information can be found about the Pebble Beach Concours D'Elegance at www.pebblebeachconcours.net