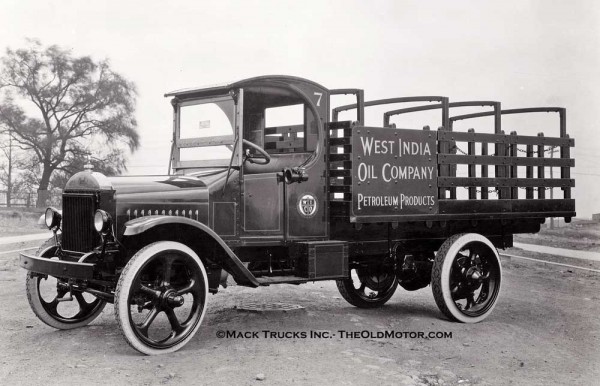 The Mack Model AB (1914-1936) was lighter duty truck that was a companion model to the Mack AC "Bull Dog" (1916-1938). The AB was offered in both chain and shaft-drive versions over the years. They are sometimes referred to as a "Baby Mack" and well over fifty thousand of them were produced during the long production run. Many of these small AB trucks were used in the delivery business, although some longer wheelbase units were also produced. The AC  or "Bull Dog"was the heavy duty version built by the company.
This truck was photographed on May 4, 1927, and appears to be one of a fleet of trucks built for West India Oil Company, a division of Standard Oil of New Jersey. The division handled Standard Oil operations in the Caribbean, central and South America. More information and AB photos can be found in Ronald G. Adams, Mack Trucks which is online.
This is part of a series of Mack Truck photos that are courtesy of  The Mack Trucks Historical Museum and curator Don Schumaker.