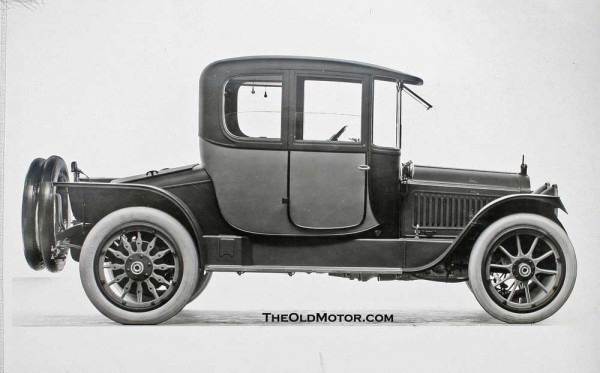 The new Packard Twin Six was announced by the company as a 1916 model in May of 1915. With it came the change to a new and very smooth high speed engine for the luxury car maker. The twelve-cylinder 60 degree engine, had a 3-inch bore by a 5-inch stroke and displaced 424 c.i., was rated at 88 h.p. and could turn as high as 3000 rpm.
Two models were offered, the 1-25 and the 1-35 which both corresponded with the wheel base lengths offered of 125″ and 135″. Nine styes of coach work were offered on the shorter wheel base and eleven on the longer.
A very distinctive-looking coupe is seen at the (top) featuring both curved-glass windshield side-panels, with a duplicate curve seen on the cowl just below it.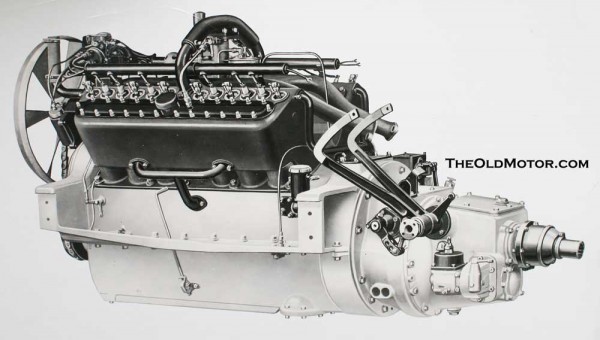 The smooth V-12 was backed up by a multi-disc clutch and a three-speed transmission, moved from the old location at the front of the rear axle, to just behind the flywheel. Another novel feature that is considered by many to be a first, was a spiral-bevel differential all of which can be seen in illustrations from the Automobile, May 27, 1915 just below.
Below left to right are; An open touring-car, a laundaulet that featured a roof with two elaborate hinged-sections, the front half of which moved forward and is latched in place on the main top-section. The rear half, hinged back with the flexible material between its top-section and the back top of the lower body folding. Up last is a distinctive looking close-coupled Brougham.
All photos are from the Rod Blood Collection  and are courtesy of the Larz Anderson Auto Museum.