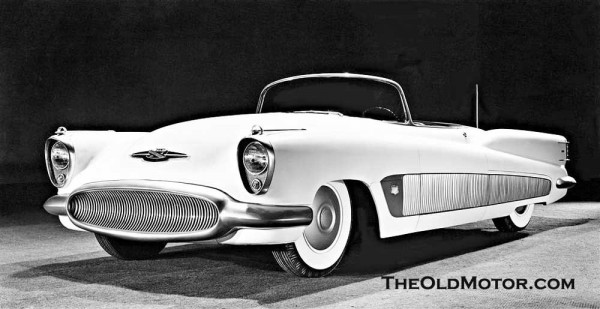 The two Detroit area newspaper press photos shown here, are of the Buick XP-300 show car, which Charles Chayne of Buick engineering (an early antique car collector) was in charge of constructing. This sleek styling and engineering exercise was built at about the same time as the Harley Earl's Buick LeSabre.
It is seen (below) being loaded into a brand new stainless steel Fruehauf trailer boldly lettered on the side "Smart Buy's Buick" on December 1, 1951. The press release tells us that it was off to travel the auto show circuit around the country and Buick had the car insured for one million dollars at the time.
The car has survived at the Sloan Museum in Flint, MI. More photos of the car can be seen at Retronaut, and Reynolds Buick has a fine recent post with photos of many of the Buick concept cars from the Y-Job on including a photo of the XP-300 at Pebble Beach in 2008. The Old Motor photos.