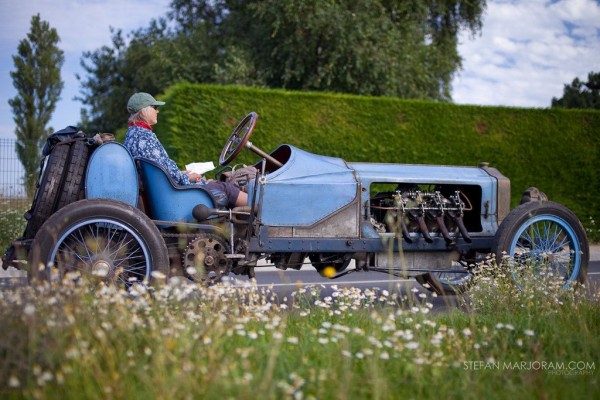 Recently we posted a photo of the 1908 Mercedes GP racing car that won the Grand Prix at Dieppe, along with a Stefan Marjoram drawing. At the time he was headed off to France, for a celebration of  the Grand Prix that was first held there in 1907.
Enthusiasts from the UK and Europe assembled in Dieppe on August 11th and the 12th, with original racing cars and quite a few modern day specials to commemorate the famous GP races held there in the past.
Here we have the first of Stefan Marjoram's excellent photos from the event that we will be posting. At the (top) is a very attractive De Dion Bouton chain-drive special with a V8 Curtiss aero engine. Below on the left is a 1913 Peugeot 148, along with Mark Walker's 1905 Darracq 200 h.p.