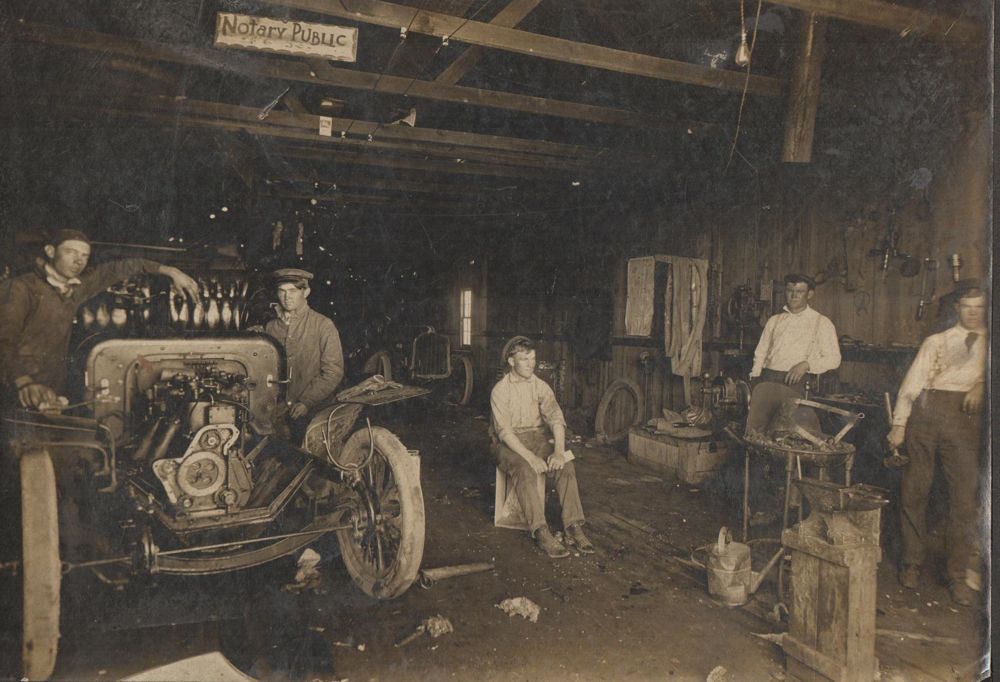 We called this the Modern Garage because we can see that they have electricity which at the time not all repair shops did. Look closely and you can see the two wires running thru ceramic insulators and a single hanging light bulb.
The car on the left is either a 1905 0r 1906 Winton four cylinder, which model from the two years is hard to tell from this angle. The Winton had intake valves which are actuated by air pressure. Those curious devices on the left hand top of the engine are the air cylinders that are part of the system. They were supplied by air from a pump which attached to the timing gear cover which is removed in this photo. The air is regulated by a foot pedal and also a steering column control.
The car in the back corner of the garage appears to be a Pope-Toledo which was the most expensive and impressive car manufactured by the Pope outfit. It also appears to be from the 1904 -1906 time period.
In the right front of the shop is the blacksmith and maybe a helper using a smaller port-able forge with a hand cranked blower visible on the back. Behind them you can also see the hand cranked post mounted drill press.
And, it appears that there is yet one more operation in this going concern. The Notary Public, the sign for which is hanging above the Winton. We think he is the real go getter here, and is the young man in the middle of the garage sitting on a wooden crate which appears to be his portable office. Photo courtesy of Robert Daniello.