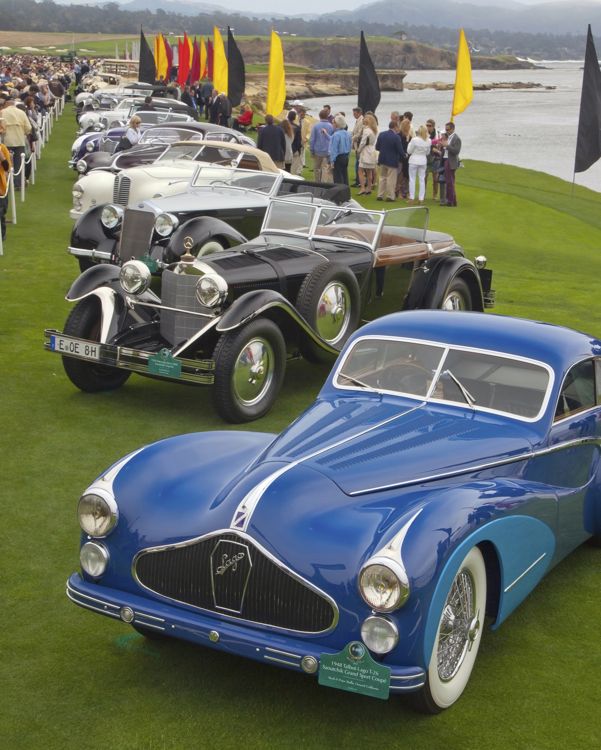 The Pebble Beach Concours d'Elegance, in addition to being one of the worlds most impressive concours, has many more activities worth noting and the photos selected here will give you a little more insight into what else is involved in this grand event. The first facet of it is the start of  The Pebble Beach Motoring Classic, which is a thirty car tour starting more than a week earlier in the Seattle, Washington, area and winding some 1500 miles down the the spectacular coast of the Pacific Northwest to Pebble Beach. The left hand photo just (below) shows the cars on their arrival at The Pebble Beach Lodge after the long trip.
The next event is the Pebble Beach Tour which is run on the Thursday before the Concours weekend and is open to all Concours entrants. This year it traveled inland through the scenic hills on the Monterey Peninsula, and then down the coast to Big Sur and back, more on this event soon.
Two other interesting events are the Gooding and Company Auction and the AFAS expo, Gooding's tents are on the grounds at Pebble Beach, and the preview kicks-off there on Wednesday. The Steve Natale photo in the middle (above) gives you a small view of the large array of fine vehicles on display in two very large and and deluxe tents. On Friday night the Gooding preview party event is held, which is not to be missed. One other event that should also be taken in, is the Automotive Fine Arts Society (AFAS) Exhibition. More on the AFAS Exhibition and the Gooding and Company auction can be found here.
We will cover two of many human interest displays in conjunction with the Concours this year; In the right hand photo just above, is 102-year-old Margaret Dunning posing by her 1930 Packard 740 Custom Eight Roadster, that she has owned for over 60 years. The fine Packard was was on display at the Concours and also she also drove it on the Thursday tour. The photo just (below) shows a display put together in honor of Carroll Shelby who passed away earlier this year, his blue 1962 Shelby Cobra 260 prototype, CSX2000 is seen in the foreground. Behind it is CSX2001 the first production Cobra, which is from the Bruce Meyers collection.
If you are a serious old car enthusiast, you need to think about at least attending this event once. At it you will see some of the finest automobiles on the face of the earth, at one of the most beautiful spots upon it. All photos Copyright © 2012 by Kimball Studios/Courtesy of the Pebble Beach Concours d'Elegance, unless noted.