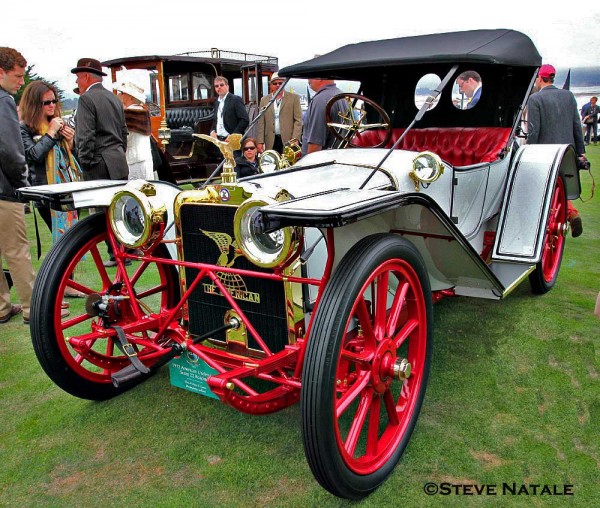 This very attractive and eye-catching 1912 American (Underslung), is a Scout Type 22A Roadster, belonging to Clem & Mary Lange. It was on display at the recent 2012 Pebble Beach Concours d'Elegance and was surrounded by spectators all day long. The American is one of the most visually appealing early cars, featuring very well done styling, which is further accentuated by its interesting underslung-chassis and large wheels and tires.
The cars which were initially designed by Harry Stutz in Indianapolis, Indiana, during 1906, as a conventional design and were produced in there between the years of 1906 and 1914. Engineer Fred Tone redesigned the car and by 1907 the American featured the unique underslung chassis. The Tone designed cars carry very large diameter wheels and tires with a very interesting suspension arrangement, where-in the axles and springs are mounted above the frame (underslung). This combination results in a very distinctive and attractive automobile, which with its large diameter tires, gave more ground clearance and a smoother ride on the rough roads of the day.
The Type 22 Scout was introduced in 1912 and was the first lighter-weight but medium-sized American produced. It was powered by a mono-bloc t-head engine, that was under-rated at 20 h.p. and backed up by a cone clutch.
Specifications and information on this model can be seen (below) in period magazine excerpts and ads, from left to right; The Automobile, Feb. 4, 1912. Automobile Topics, March, 21, 1912, and The Automobile, Feb. 15, 1912.
The car was beautifully restored and presented at Pebble Beach, by Longfields Antique & Classic Automobiles Ltd. The photographs are courtesy of Steve Natale of GMSports. You can also take a look back on earlier posts covering the American here on The Old Motor.