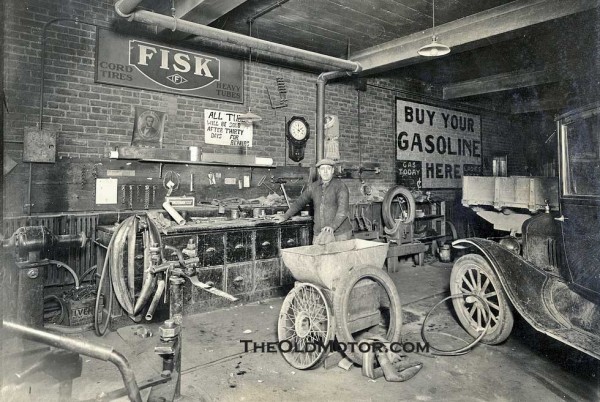 Here we have a glimpse back into what appears to have been an average service garage, back in the late 1920's. It is known to be Charles Metzger's Garage, and it was located in Wapakoneta, Ohio. The Goodyear Tire calendar on the wall appears to be from the year 1927, and it looks to be showing us the month of April. The calendar clock just to the left (popular at the time), is showing us the date as being the 27th, with its third hand.
From what can be seen in the photo, it appears the Metzger garage may have concentrated on tire repairs, gasoline sales and car storage as many at the time did. The the gas sign on the wall also supports that idea, along with all of the tire repair equipment. Study the photos closely to see a rare view of all of the tire and tube equiptment of the time, along with both a steam tire and tube vulcanizer in front of the radiators on the right hand side of the work bench.
In the shop are a truck on the far right and an enclosed-body Model T Ford that we hope our readers will date and tell us more about. Be sure to take the time and enlarge all of the photos and study the interesting details. The photo is courtesy of William Creswell who has also provided us with many of the details.