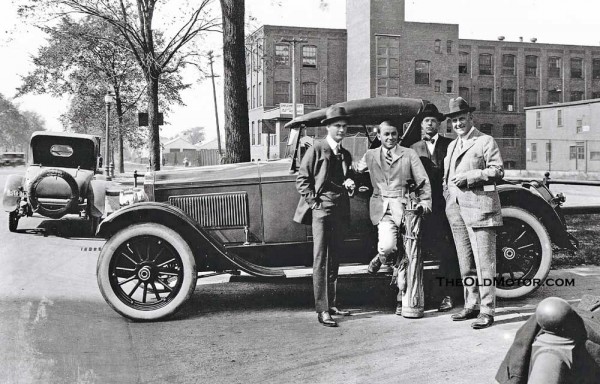 *Update* At the bottom of the post.
A pair of sporty cars and gentleman are seen here posing here with a Stevens Salient-Six roadster on the left and a Packard roadster. After spending a bit of time enlarging the photo it was found that it appears to be a brand new 1921-1923 Packard Single-Six, that is posed in front of a building wearing a sign that reads, "Employment Dept. Packard Motorcar Co."
The Single-Six was the lower-priced model offered on both a 116″ and 126″ w.b., depending on the body style chosen. It was powered by a 241.5 c.i. L-head six that produced 52 h.p. It appears that this photo was taken in Detroit, MI., near or at the company's East Grand Boulevard complex.
The Stevens Salient-Six roadster on the left, identified by brand and model on its spare tire cover, was produced between 1917 and 1922. The Stevens was produced in Freeport, Ill., by The Moline Plow Company, which went into the automotive pursuits when demand for its buggies and farm vehicles tapered off.  Moline stayed with car production only until mid-1924 and then turned its business back to producing farm implements. Photo courtesy of the Donald Ellis Collection.
*Update* Thanks to reader Andrew Schlacter for sharing these photos (bottom) with us. If we read his comment correctly, the Cadillac parked in the photo below, is in the same location as the Packard was some ninety years ago. The photos also convey the sad condition of the plant of one of the worlds best car makers of the past.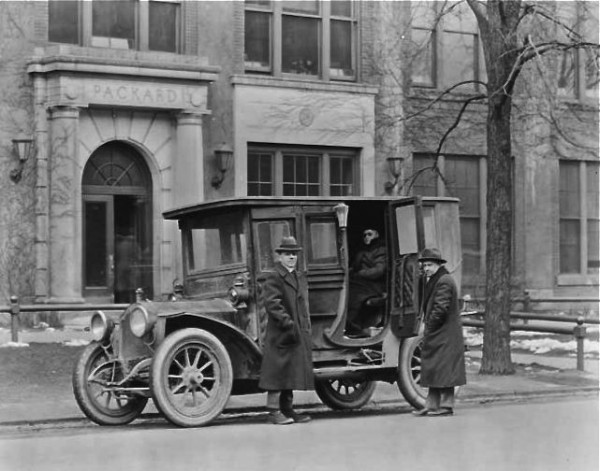 Also take a few moments and look at a post that David LaChance has done recently on Hemmings Daily with full details and links to many more photos and information about the unfortunate fate of the complex. The photo (above) from his post, is of an updated circa 1908 Model 30 Packard limousine out in front of the main office building in the same location. This car appears to have been wearing an open-fronted body that has been somewhat crudely converted to an enclosed front. *Update* Tim Martin has found all the details about the Model 30 Packard photo above.