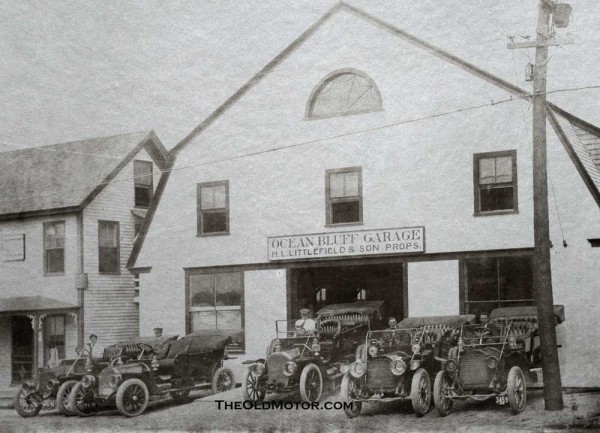 Like many early garages, it appears that H. L. Littlefield & Son, of the Ocean Bluff Garage, may have had quite a fleet of cars for tourists in the popular resort town to rent. The garage was located on Ocean Ave. in Kennebunkport, ME., where many no doubt traveled to by train for a sea side vacation and would then rent a car and driver to see the sights in the area. The garage was found listed in advertising in the December 1913, issue of the American Motorist magazine.
Three of the cars have been positively identified with the exception of the two on the left which may possibly be an EMF and a Stevens-Duryea. The car in the middle on the ramp, is a circa 1910 Peerless. The last two on the right are Packard Model 30 cars and have been identified as a 1910 Packard on the left and a 1907 Packard on the right.
If any of our readers can positively identify the two cars on the left or tell us more about the Ocean Bluff Garage, the Littlefields who ran it and if the building has survived, please send us a comment. The Old Motor photo.