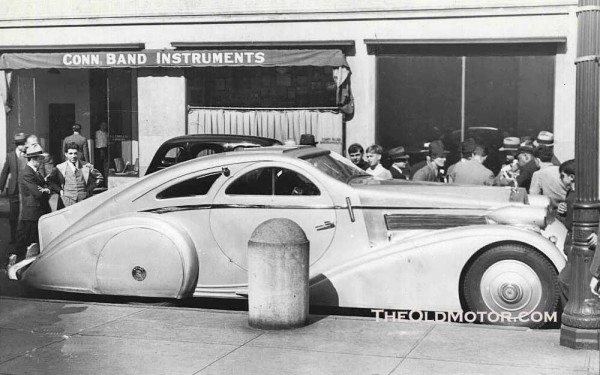 The "Round Door Rolls-Royce" as it is known, was a very interesting car for its time that carried bold and very imaginative one-off coach work. It is based on a 1925 Phantom I Rolls-Royce chassis which was first introduced in 1925.
It was bought new by Mrs. Hugh Dillman of Detroit, MI., and the chassis was delivered to Hooper & Co., a respected London-based coach builder who constructed a cabriolet body for the chassis. Mrs. Dillman for whatever reason was unhappy with the finished result and never took delivery of the car.
It appears that it was then purchased by the Raja of Napara and passed through several other owners hands until it arrived in Belgium in 1932. Two years later an unknown owner had the Belgium firm of Jonckheere construct its second coach work. It has been reported that in 1936 the creation won a Prix d'Honneur at the August, 1936 Cannes Concours d'Elegance in France.
Recently the press photo (top) surfaced, which is dated July 2, 1938. The caption with it states that it was owned at the time by Maxwell M. Bilofsky and it was one of the first cars to be routed on a New England trip, by the Automobile Club of Boston. Bilofsky is listed as being a electric light bulb magnate at the time.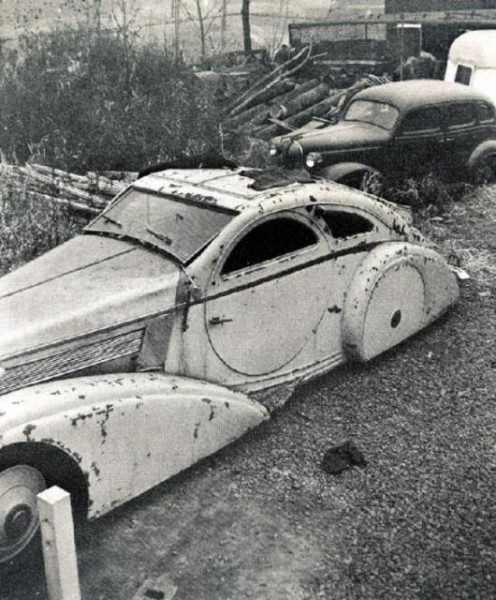 Apparently the car again passed through several more owners and before World War II it appeared in Bar Harbor, Maine, where it was chauffeur driven for the new owner. It managed to survive WWII, but somehow ended up in a junk yard (above) in New Jersey during the 1950s. It evidently came into collectors hands in the 1950s and was saved and restored. In 2001 it was purchased by the Peterson Museum after which it re-restored and it has remained in the collection since.
Just last week at The Windsor Castle Concours of Elegance, which was staged September 7-9, 2012, on the grounds of historic Windsor Castle in England, the Round Door Rolls was displayed with sixty of the world's rarest motor cars. The photos above (middle) are courtesy of  Tim Scott of Fluid Images and Sports Car Digest. Scott served on the event's Steering Committee and as the Official Photographer. More details and photo of this fine event soon.