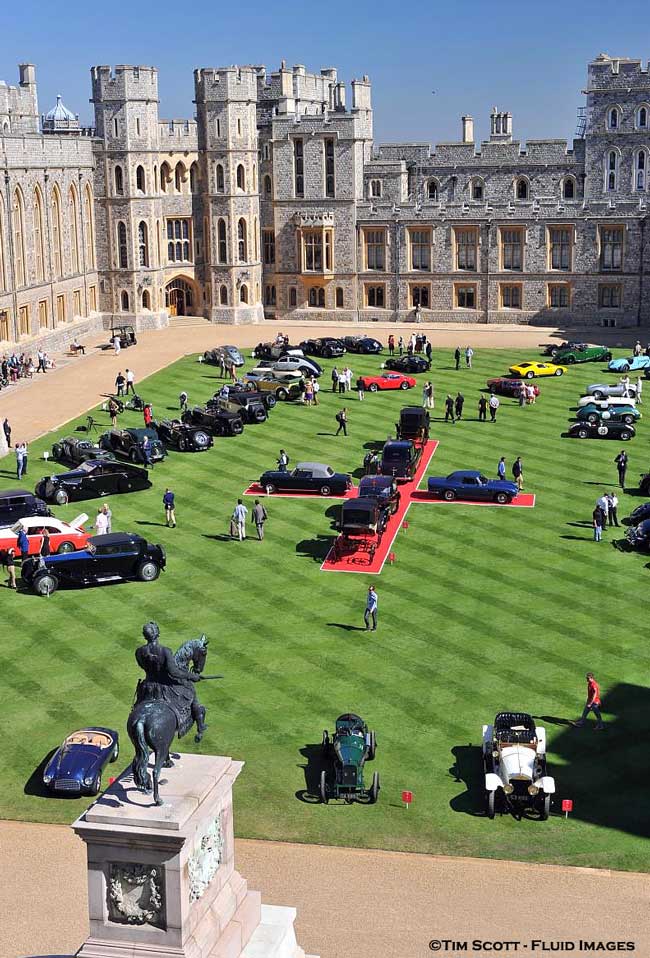 Last weekend in England there was an antique and vintage automobile concours of monumental proportions and the first of its type to be held anywhere. With the gracious permission of Her Majesty The Queen, the Windsor Castle Concours of Elegance took place on September 7-9, 2012, in the unique setting of one of the most historic places in the world, the Royal Castle. Sixty of the world's rarest motor cars, a third of which came from America, many of them never seen before in England, graced the Upper Ward of the Castle in celebration of the Diamond Jubilee.
The photo (above and at the bottom) shows some of the cars which were on on display in the courtyard for the two days of the event. The first day was for the entrants and invited guests and the second day the event was open to the public.
With the oldest dating from 1896, nearly all of the cars in the Concours were driven in by their owners into, and then two days later back out of, the Castle grounds. This is the first time in the Castle's history that any such event has been given permission to take place in grounds never normally accessible by the public.
One of the Concours car owners, Mr Victor Muller, said: "As a seasoned collector for over 30 years, I thought I had seen it all – Villa d'Este, Pebble Beach …. but nothing prepared me for this event. It was overwhelming. The organization was flawless, the location to die for and the quality of the cars the best possible. In all, it's the best event we have ever attended and we are so grateful to Her Majesty for allowing us access to her domain."
Mr Muller owns a Rolls-Royce Phantom I Barker Open Tourer built in 1929. This car was then later exported to Kenya and it served as official transport for Princess Elizabeth, as she then was, on her State Visit to the country in 1952. It was while there she learned of her Accession to the Throne.
Enjoy these fine photos by Tim Scott of Fluid Images in our first post on the concours, showing the cars being driven into the event by their owners. In our next post we will share with you more photos of the cars inside the Castle courtyard on display and leaving after the event was over.
The charitable focus of the Concours of Elegance is to support charities that provide care for children and young people with life-limiting illnesses, and those that undertake research to fight cancer.
Funds raised by the Concours are being split equally between Cancer Research UK, Marie Curie Cancer Care, The Royal Marsden Cancer Charity and East Anglia's Children's Hospices. You can learn much more about the event at The Windsor Castle Concours of Elegance.