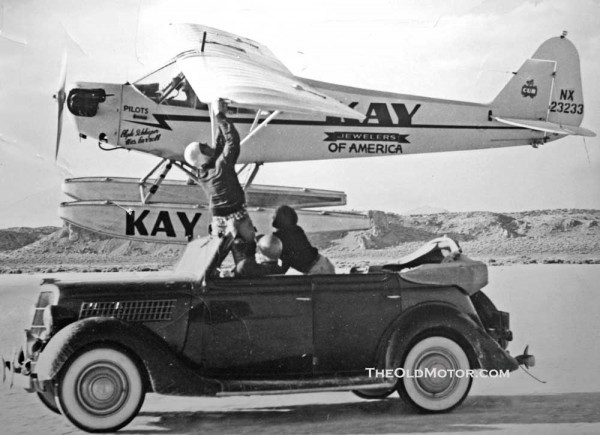 Thanks to reader Tom M. we now have the complete details of this record breaking airplane endurance which can be found at the (bottom).
Here we have positive proof that it really does take three men to change a light bulb. As you can see it takes one man to drive, one man to change the bulb and one man to hold onto and steady him. This press photo, dated October 5, 1939, was taken on the Rosamond Dry Lake in California (scene of early dry lakes racing). Jack London Jr. a ground crew member, is shown changing one of the wing running lights of a seaplane seeking an endurance record while skimming over the surface of the dry lake at fifty miles per hour.
The craft was piloted by Clyde Schliepper and Wes Carroll, who were seeking to establish a new light plane endurance mark of better than 343 hours and 46 minutes. They had already claimed the seaplane record.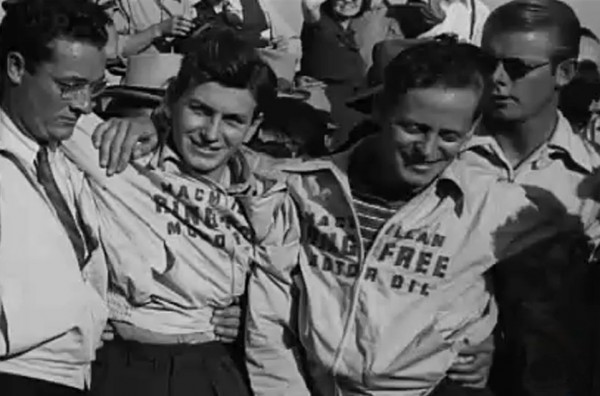 The car is a 1935 Ford convertible sedan and we are hopeful that our knowledgeable readers can tell us the make and model and year of the airplane.  We did find reference to another team setting the light land plane record at 535 hours and 45 minutes, on October 24, 1939, at Muncie, Indiana, so we do not know if Schliepper and Carroll were successful. The Old Motor photo.
*Update* In October 1939 they flew a Piper Cub Sea Plane non-stop for 726 hours (30.25 days), a world record endurance flight.  It was called the "Spirit of Kay" because Kay Jewelers of Long Beach sponsored them.  They took off from Marine Stadium in Long Beach and flew over Seal Beach, then out to the desert and circled back again and again. The plane was refueled with a unique system—a man in a roadster would drive along the runway with 5 gallon cans of gasoline.  The men in the plane would drop a line with a hook on it and pull the cans up into the plane.  This was also how their food was delivered.  When they landed back at Marine Stadium on October 29, they had to be helped from the aircraft and held up as they spoke with the press (see photo above). Courtesy of  the Los Alamitos-Rossmoor History Project.