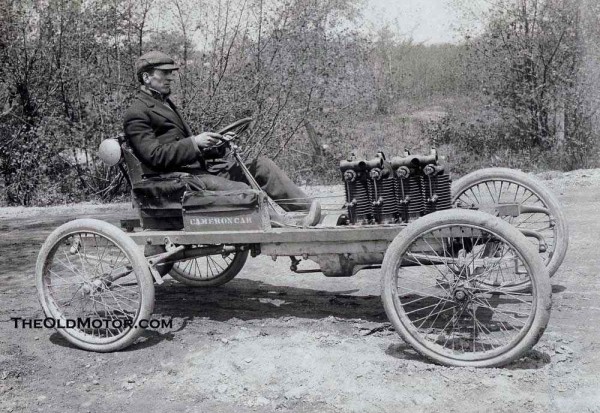 This is the second in a series of very clear and interesting Cameron photos that are being posted here on The Old Motor. Information on the make is scarce, so it is not known exactly what purpose this early Cameron was built for. Based on the stripped-down appearance of the unique early four cylinder with an open exhaust (we are viewing the exhaust side), the guess is that this may have been one of the early Cameron racing cars. An early illustration (below) showing the walking-beam valve-gear the Cameron Brothers used. The Duesenberg Brothers used a similar arrangement later on.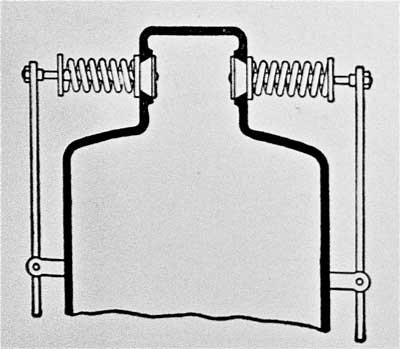 Other interesting features of this car noted are: a wooden frame and sub-frame under the power plant, a very rudimentary friction brake which acts on the rear tire, what appears to be a gasoline tank of only a couple of gallons capacity on the back of the seat, and a box on the side with the wording "Cameron Car", likely to be a battery and coil box for the ignition (note the wires from it to the front of the engine).
The Cameron is known to have performed well in numerous racing events and hill-climbs at the time, including setting a half-mile world record at about this time in Cincinnati, Ohio. Are we  left to wonder if this could have been this stripped down sprinter or a hill-climb special? Can any of our readers add any more information to this very interesting automobile?
Just (below) from an article found in the Nov. 15, 1908, issue of Automobile Topics, is a paragraph about pre-race practice for the 1908 Grand Prize and light-car races held that year in Savannah, Georgia that year, showing just how fast the little Cameron racing cars were. For any car or driver to keep up with "Wild Bob Burman" at the time was a major accomplishment, which in the end speaks very well for the Cameron.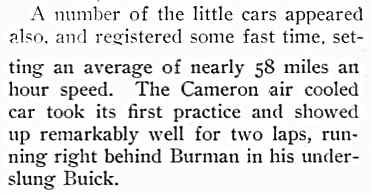 Since our last post covering the very interesting Cameron air-cooled car, full details (below) have been found in The Automobile Magazine, dated Nov. 8, 1906, of the very unique transmission-rear axle assembly used in the standard production cars starting with the 1907 model. Take a moment to enlarge them and read the text, to see just how forward thinking the Cameron brothers were.
The Cameron photos of the car which was built in Connecticut for a time, are courtesy of  the collection of Mark Johnson, from the Klingberg Family Center, which hosts the annual Klingberg Motorcar Festival as a benefit event on Fathers Day weekend. Please support them if at all possible and be sure to attend next years show in New Britain, CT.