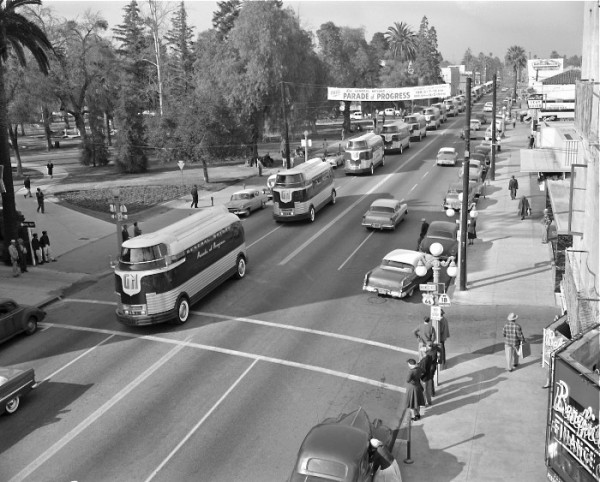 The Futurliners, the star of General Motors "Parade of Progress" can be see (above) arriving in San Bernardino, California. Hanging across the street is a banner which announced that the show was coming to town, in a photo which is courtesy of GM via Hemmings Daily.
Usually in the photos that are found today of the GM Parade of Progress, we are able to see a FuturLiner or one of the semi-tractor-trailers that accompanyed them. The press photo (below) dated May 25, 1956, shows the whole expo including the "Aer-o-drome" which is the aluminum-framed tent seen in the foreground.
The costs of putting this on must have been astronomical, but the attendance, good will and exposure must have sold cars many cars after the show left each city. The press release states that eight thousand people attended the first of five nights of shows. During the appearance, the shows held every day were on the hour, from 2 p.m. until 10 p.m.
At least ten GM Futurliners of the twelve that were built can be seen in the photo. The release states that 26 vans having having built-in stages were part of the show. Photo courtesy of Benjamin Ames. You can also look back here to a photo of one of the 1936 Parade of Progress vans.