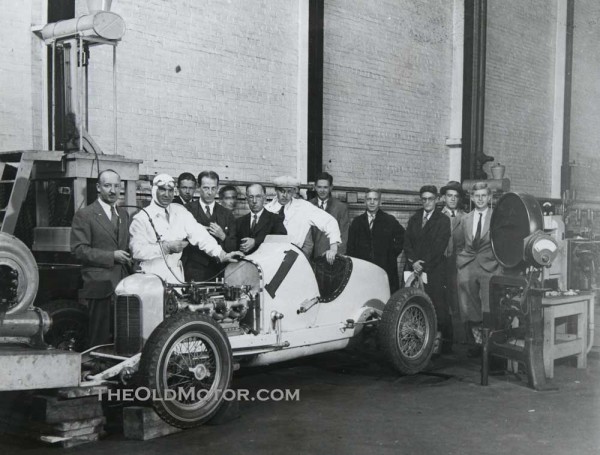 This is a press photo that was taken at Yale University in New Haven, CT., during the late twenties or early thirties. The photo shows DePalma and his last competitive racing car, a straight-eight-powered Miller, on a chassis dynamometer at the school.
DePalma a clever racer and mechanic, who never missed a trick, is shown tuning his car with professors and students in the background. The rear tires of the car can be seen on the wheels of the dynamometer and a chain is visible behind the car to secure it from moving forward.
Partially visible on the (left) is a blower forcing air through the radiator to keep the engine cool while testing. The tower in the background, holds a Model T Ford gas tank at the very top for providing a reliable gravity feed of gasoline to the pair of Winfield carburetors. The dark colored vertical device, with a meter on the (right), appears to be the dyno instrumentation.