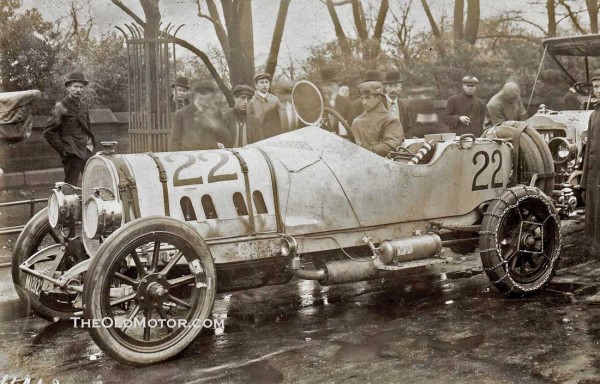 The Pope-Hartford company being an early auto manufacturer, had a long history of competition that reached back to at least 1904. We are very fortunate to be able to show you what may very well be the best photo to survive of one of the Pope-Hartford racing team cars. This four-cylinder racing car appears to possibly have been the same car that Bert Dingley drove to a 10th place finish, in the 1910 Vanderbilt Cup Race (see the forth photo below). The company had two at least two of this style of racing cars and an identical number 17 (at the bottom of the post) driven by Jack Fleming finished 6th in the race.
This photo appears to have been taken sometime later, as a different Pope-Hartford driver Lou Disbrow, is behind the wheel, in some other type of an event (we cannot make out the lettering on the banner tied to the cowl) that may have taken place in N.Y.C. Beside Disbrow is a bundle of flags, which may be a clue as to what type of event the car was in. The Pope-Hartford car been equipped with road equipment and the exhaust header has been removed and it has been equipped with a muffler. Just behind the Pope-Hartford can be seen a road version of one of the White Steam cars.
Bert Dingley is shown in the 1910 Vanderbilt Cup Race (just below) in what may very well be the same car. We compared the many photos that exist of the car as raced in the 1910 Vanderbilt Cup Race, with the above photo and all of the numbers on the car are in a different font style and some are in different positions. The Pope-Hartford team cars as we will see later, raced in many different races across the county and were also driven to some of the events with the road equipment as see above.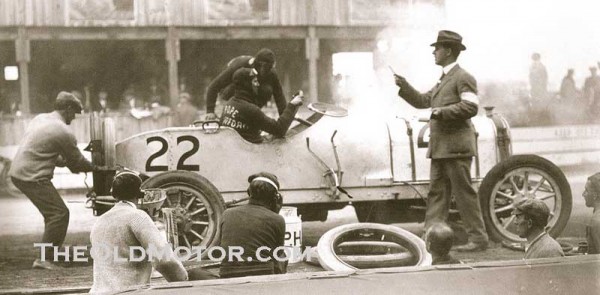 Below is an excellent Spooner & Wells photo showing the identical Pope-Hartford team car, the number 17 driven by Jack Fleming, which finished 6th in the 1910 Vanderbilt Cup Race race. In the far left of the photo, next to the dog, appears to possibly be a Pope motorcycle, with its very distinctive, round-cross-sectioned gasoline tank.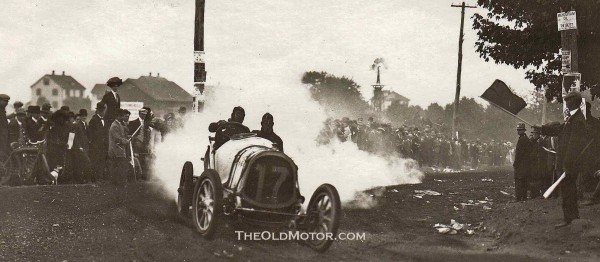 The photos are courtesy of  the collection of Mark Johnson, of the Klingberg Family Center, which hosts the annual Klingberg Motorcar Festival as a benefit event on Fathers Day weekend. Please support them if at all possible and be sure to attend next years show in New Britain, CT.