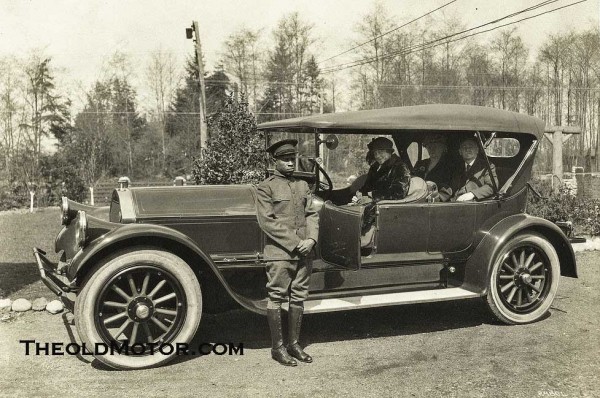 Today we have a pair of Pierce-Arrows dating from somewhere in the mid-teens to possibly around 1920. The chauffeur-driven five-passenger touring car (above) may turn out to be a Model 38. No further information is with the photo or about the passengers or the location.
The cloverleaf touring car (below), came with the following notation on the back; Cousin Clarence and his car. It is a Pierce Arrow …. …. some folks are too poor to get a Pierce Arrow like cousin Clarences. He is rich and never suffered for anything and never will. By G.W. Wiggins. This car has the appearance of possibly being the slightly larger Model 48, which is equipped with hood louvers.
We are hoping to date and establish the model of each of these cars, so if you can help, please let us know. The photos are courtesy of William Creswell. You can see many more Pierce-Arrow photos here on The Old Motor  and visit with the Pierce-Arrow Society.