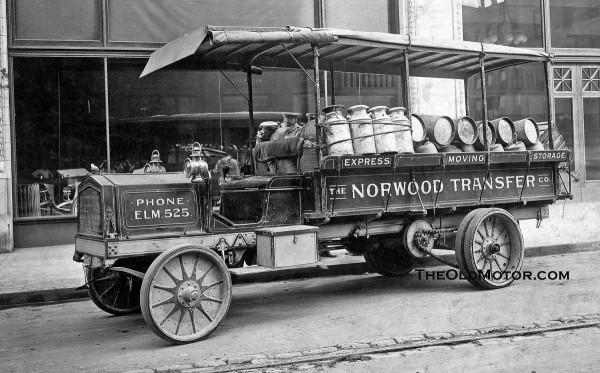 The Norwood Transfer Co. owned this Packard truck which was delivered new by the Citizens Packard Motor Car Co. of Cincinnati, Ohio. The company appears to still be in business as freight brokers in Norwood, which is just northeast of the city of Cincinnati.
This is the first truck seen so far in this series of Packard Trucks, that is equipped with what at first glance appear to solid wheels. All of the other trucks that we have looked at so far have been on wood-spoked or a form of wood-spoked cushioned wheels. It also maybe the earliest truck to be seen in this series. Can any Packard truck experts tells us more and also what year this truck is?
Take note of what appears to be a circa 1910 Buick roadster in the window just behind the front of the truck.
For comparison (below) is a later and larger truck, note the this truck is LHD, has a cushion-mounted radiator, hood louvers and appears to be shaft-drive. The Adams Express Company may have been a competing trucking firm in the Cincinnati area.
You can take a look back here on three pages of the Packard trucks photos in this series here on The Old Motor courtesy of Kim Westendorf's family.