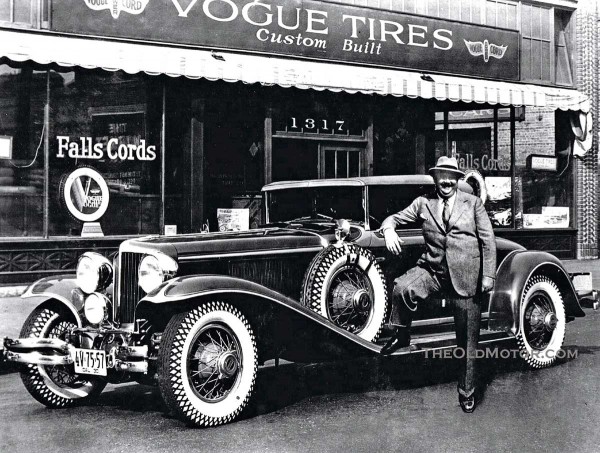 Paul Whiteman the famous American Bandleader (1890-1967), is shown here in front of the Vogue Tire store in the Los Angeles area during 1930, with his L29 Cord. This photo proves beyond a doubt, that California bling is not a new phenomenon.
We have seen a photo of this very same model of Vogue tire in the past, but after a some research, cannot find any more information about it. We have found that the Vogue name is still on tires being sold 98 years after Harry Hower, a chauffeur in the Chicago area, joined forces with the Woodbury family during 1914 in the tire business.
During the years of 1918-1919, Vogue came out with the design of the double whitewall tire. By 1926 the company had been successful promoting its double whitewall to the chauffeur-driven car fraternity and decided to branch out to LA and added Dodson Limited as a distributor there.
As the depression set in during the early 1930s, about the time this photo was taken, Vogue Tires' biggest customers were movie stars and Duesenberg owners, as only they could afford these custom built tires. Please let us know if you can come up with any more information about this particular tire, as seen on Whiteman's Cord. Photo courtesy of Donald Ellis.