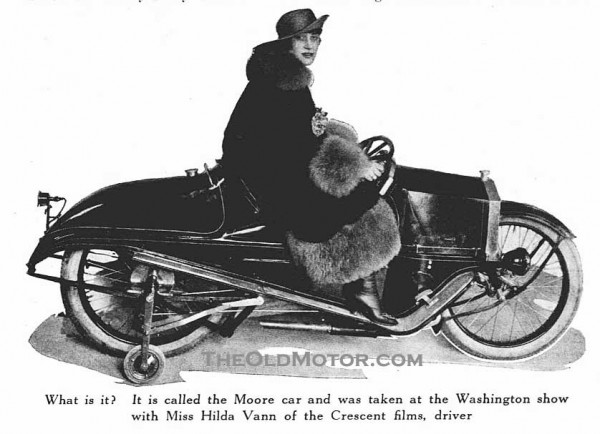 Here  is a little bit of an oddity to study, the Moore – Car. Yes it really is a motorcycle, with a pair of training wheels (reported to raise or lower at the touch of a button) but W. G. Moore, who helped Olds build his first cars and was its creator, insisted on it being called a car.
It was built in Indianapolis, IN, only for a short time during 1917. It is quite similar to the Ner-A-Car, which was first built in the US starting in 1918 and later in England. The Moore – Car may possibly be where Carl Neracher came up with his Ner-A-Car design.
Information is hard to find about it, but it has been reported that the engine was made by Sinclair and it had a three-speed transmission and shaft-drive. Note the unique half-elliptic springs instead of a swing-arm, locating the rear axle.
It was constructed of press-steel without the use of tubing, castings or forgings for its structure. Behind the seat appears to be the combination gas tank-fender. It has the appearance of having an automotive type radiator, so there is the possibility it was water-cooled, unless this was purely ornamental. Photos form the June 12, 1917, Motor Age Magazine.