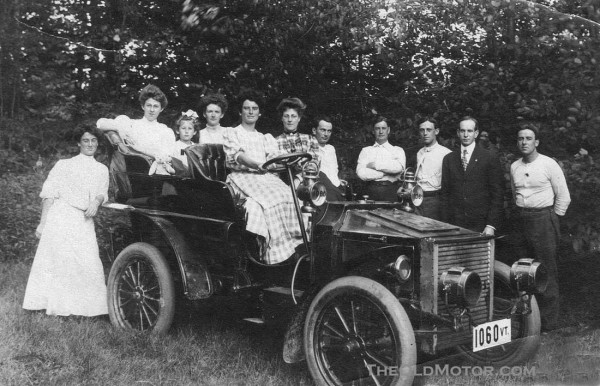 It is always interesting when on occasion, a photo gets posted here on The Old Motor and a reader has or knows about another, which is related to it. That is the case here, where reader Michael Eldred, who lives in Wilmington, Vermont, knew about these photos and that Lou Disbrow (scroll down) whose Disbrow Special we just posted, appears to be in them.
Eldred also sent the following along about the photo (above and below): Earlier in his career, Disbrow worked as a mechanic for Joan Newton Cuneo, the first American woman race car driver. This photo in the Pettee Memorial Library (Wilmington, VT) collection shows Cuneo seated (in the back, viewer's left) in her 1904 White steam car, with a group of friends and family at Lake Raponda, in Wilmington.
Cuneo biographer Elsa Nystrom believes that Disbrow is the last man on the right above. (We believe that he may be the third man from the right, based on comparisons with the many photos of him here on The Old Motor).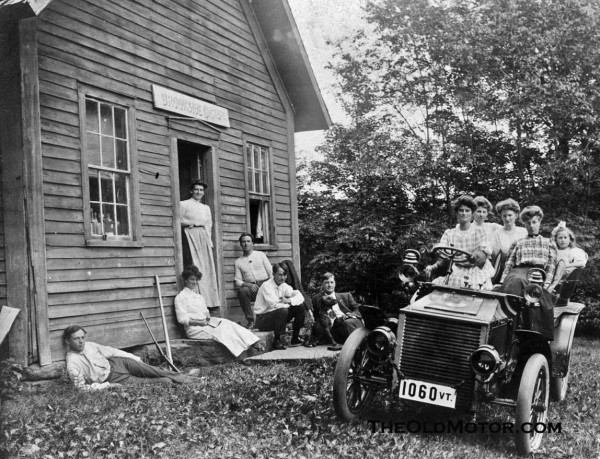 The same group is seen again with the White steam car at a camp in Wilmington, called "The Brookside Cottage". Cuneo was a grand daughter of one of the famous "Newton Bros." who developed the local logging industry and much more. She lived in New York City and may have driven the car from there, to her home on Lake Raponda. This may have helped her prepare for her involvement in the 1905 Glidden Tour, in which she drove a White steamer,  which is a story in itself. Photo courtesy of the Wilmington Historical Society.
And check back, as we will be doing another post soon on Joan Newton Cuneo, who later on raced Knox automobiles. We will be posting some very interesting photos of her and one of her racers, running down Main Street in Wilmington, Vermont, during 1910, among others.