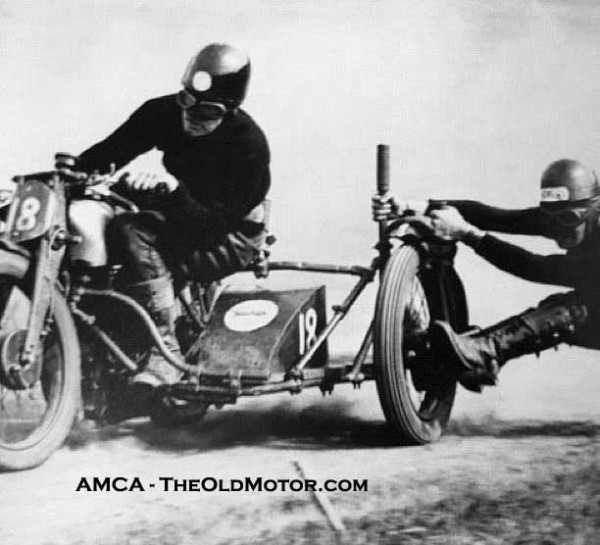 The photo (above) shows us a taste of what the Brits refer to, as side-hack racing. The "hack monkey" is standing on a foot peg attached to the axle, while holding onto the two vertical handle bars. On a corner turning in the other direction the "monkey" will be laying across the rear of the machine and over the rear fender behind the pilot, acting as a counter-balance. Can anyone ID what appears to be an English machine?
Just (above) is an interesting color home movie shot at the 1949 Daytona Beach motorcycle race, on the same course the the stock cars raced on. Check out the sedan deliveries at the beginning of the film used for getting the motorcycles to the beach.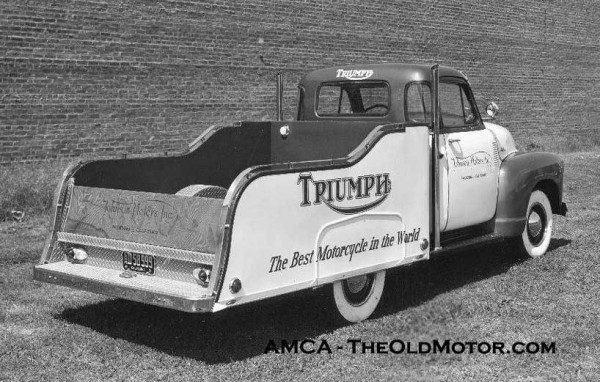 And above is a Johnson Motors Inc. shop truck from Pasadena, CA. Johnson was the number one dealer of Triumph Motorcycles in California and an active supporter of California Motorcycle Racing during the early to mid twentieth century. Both photos are from the American Antique Motorcycle Club Facebook page, you can also visit the club at the AMCA. We also have forty more pages of antique motorcycle photos for you to enjoy here on The Old Motor.