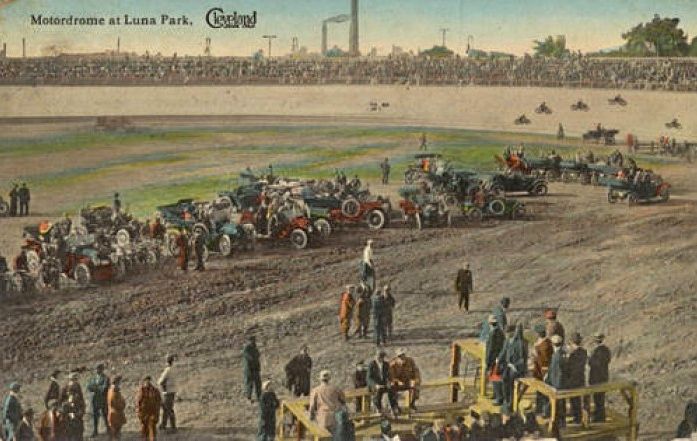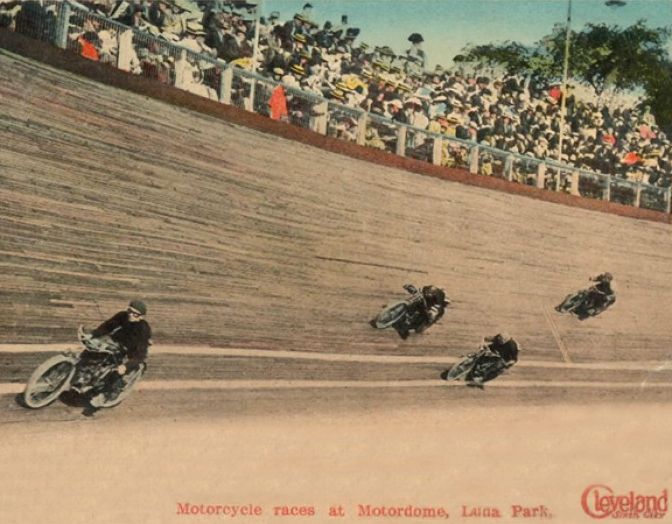 Not to be confused with the smaller circular drome built in 1911 within the amusement area of Coney Island in Brooklyn, New York, this particular 1/4 mile wooden track was located in Cleveland, Ohio and ironically it too was built inside the city's own amusement park known also as Luna Park.
Built sometime in 1912, it didn't take long before it claimed it's first victim. On June 30 of the same year, in front of 5,000 spectators, motorcyclist Bob 'Daredevil' Hunter was killed after colliding with Cleveland's own Finn Huttinger. The latter escaping with minor injuries.
In a cruel twist of fate, two other motorcyclist's were killed in San Jose, California on the same day, sparking the media into a frenzy condemning the dangerous high banked wooden saucer's that were springing up all over the United Sates. Their reaction was justified after the worst accident in history occurred in September when popular riders Eddie Hasha and Johnny Albright along with eight spectators were killed and many others injured at the Vailsburg Motordrome in Newark, New Jersey. This was a terrible year for the motorcycle racing fraternity with many people calling for the sport to be banned and even prompting one publication to rename the boardtracks as 'murderdromes'….but the crowds kept coming.