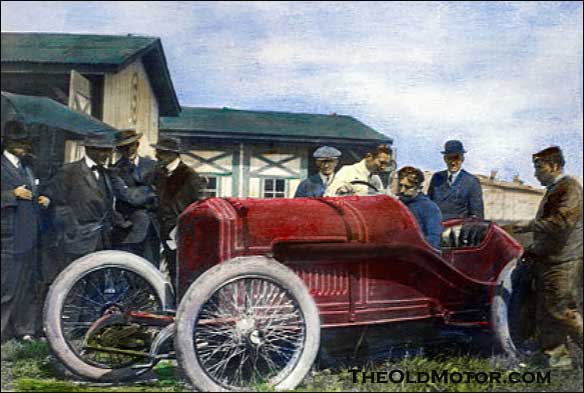 Just the other day this photo, which appears to be a colorized photo or lantern slide, was found by early racing enthusiast Douglas Odgen. It appears to possibly depict Arthur Duray in the 1914 Peugeot, which finished in 2nd place at Indianapolis that year, behind Rene Thomas in his Delage.  Jules Goux who won the 1913 500 in his Peugeot, finished 4th in the 1914 edition.
The discovery of this photo prompted us to search out other Peugeot photos and construction details, which will show you this brilliant dohc, four-valve four-cylinder engine designed by Boillot-Goux-Zuccarelli or "Les Charlatans" as they were called. Boillot and Goux were both racing drivers and Paolo Zuccarelli was a very talented practical engineer-mechanic. This engine that they created in 1912, established the dohc four-valve layout that is still in use to this day.
Just above is a four page article in the Automobile Magazine, that shows us the full and very interesting construction details of the 1912 Peugeot, that went on the win the French Grand Prix and many other races that year. The following year Jules Goux, won the 1913 Indianapolis 500 with an updated 448 c.i. version of the 1912 car. He finished the race at an average speed of  75.933 mph, ahead of Spencer Wishart in a 300 c.i. Mercer in second at 73.489 and Charlie Merz in 389 c.i. Stutz in third.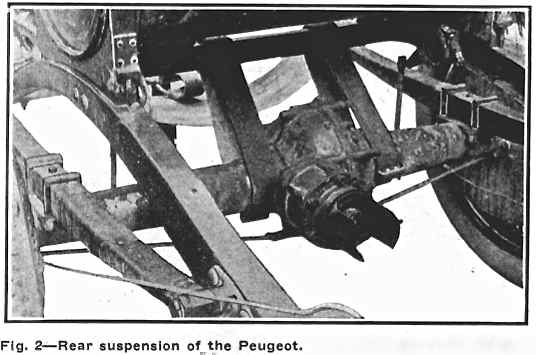 Just (below) is a very clear and interesting silent film made at the time and using some of the best 1912 French GP racing footage we have seen yet. It shows the event from many different locations around the track, includes many of the cars and at the end, has a funny scene of a doctor treating and unconscious driver who wakes up.
Just (below) is a very interesting and fully illustrated article from The Automobile, Feb, 12, 1914, issue titled "The Acme of Racing Efficiency" that tells of the new 183 c.i. model, which produced about the same speed and power as the earlier 1913 450 c.i. and 1914-15 300 c.i. versions of the car built for Indianapolis. It shows you the updated feature of a camshaft gear drive up the front of the engine, that replaced the earlier shaft driven version. Another update to the engine, included a three main bearing crankshaft that ran on ball bearings. Chick here for Part II of  "The World's Greatest Racing Car" – The DOHC Peugeot.