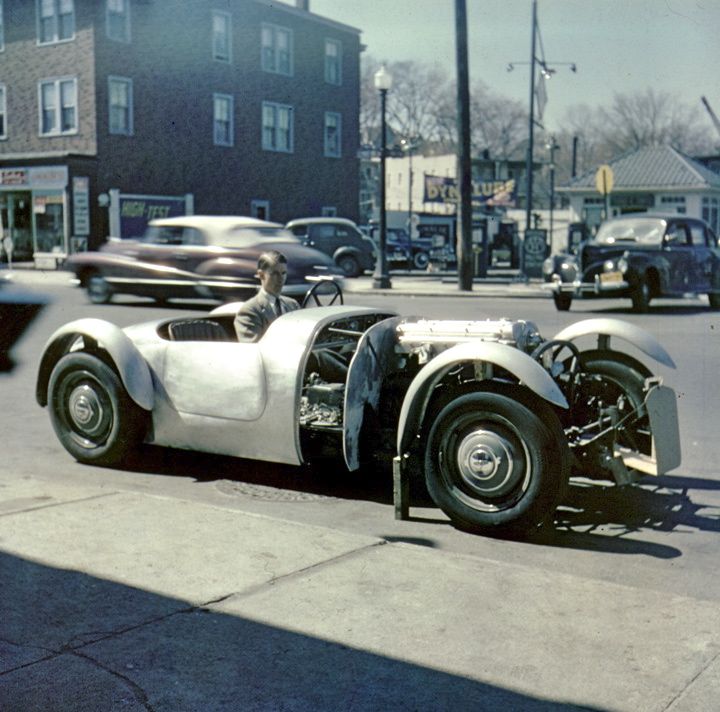 John Fitch is quite an incredible man who has done many things well during his life and career.  Along the way he has been a WWII pilot, a professional racing driver with many important victories around the world, car constructor and a crusader for safety on racetracks and highways.
The Fitch-Whitmore was constructed in Fitch's White Plains New York shop – Sports & Utility Motors in 1950. It was the chassis from a XK 120 Jaguar which he and well known magazine illustrator Coby Whitmore had campaigned on the track the year before. The flawless aluminum coachwork was hand crafted by Andy Salada who was considered one of the best at the time.
In its first race at Bridgehampton, it was a total success, finishing forth and winning its class. Unfortunately for the special, Fitch was such a good driver that he was hired by Briggs Cunningham to race one of his C2 racing cars at Le Mans. He was only able to race the special one more time at Bridgehampton, this time finishing third. The car was later sold in 1952 and has gone thru a several hands and survives to this day in restored condition.
The photos are courtesy of  Sean S. Smith whose father J. Frederick Smith was a professional photographer and illustrator who took these photos. Sean's Godfather was Coby Whitmore. Sean has followed in his families footsteps and become a very successful photographer and you can see his work (Be sure to do a mouse over on his slide show) at Motorgrafix.com . Sean has offered to become part of our galley of contemporary vintage automobile photographers when we can find the time to get it up and running.
The photos below are of a fashion shoot that J.Frederick Smith used the car in. The very bottom photo is of Coby Whitmore, in the car at a racing meet.