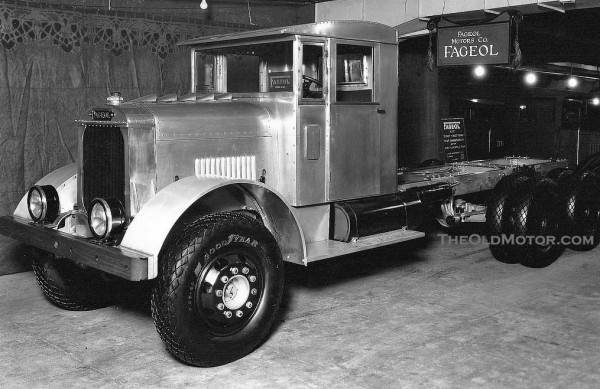 This 1934 "Fageol Built" truck, according to the sign shown on it while on display, was "The First – Aluminum Alloy Truck". The sign goes on to list a standard chassis weight at 12,375 lb., with the aluminum version coming in at 9480 lb., a savings of 2,895 lb. With the limited amount of power available for truck engines at the time, this was a big plus as it would allow that much extra payload to be carried, which would increase income for a trucking company.
The Fageol Brothers  first tried building the innovative car that we featured recently, but then turned to building trucks and tractors. In the early 1920s the brothers invented a new style of bus that was low to the ground, along with it featuring a wide track and called it the "Safety Coach". It was much more resistant to roll-overs, than the conventional bus of the time, with a high center of gravity. In 1927 they left the company and formed the Twin Coach Company and manufactured buses in Ohio.
The Fageol truck was built up through to 1938 when production stopped and it was then bought by T. A. Peterman to build logging trucks on the West Coast. Soon the firm called "Peterbilt" after Peterman, branched out and also produced other types of high quality trucks, which remain in production until today. Photo courtesy of gdmey.